Main content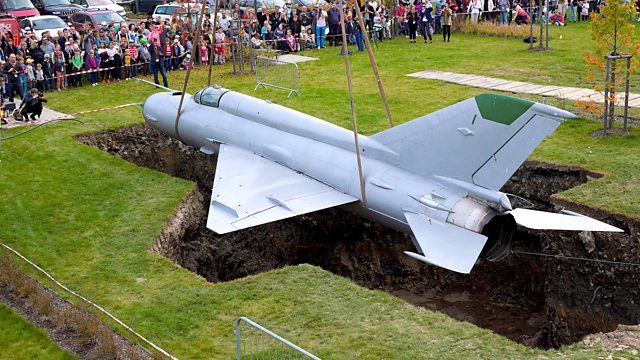 The Man Who Buries Planes
Documentary following Turner-prize nominated artist Roger Hiorns on his quest to bury a network of planes around the world.
Turner-prize nominated artist Roger Hiorns has always been fascinated by the idea of burying aeroplanes.
"The idea is to take infrastructure from the world - an object that is so powerful and so dominant - and essentially put it in your own context; take this discarded, powerful equipment and put it in the ground."
Over several months, we follow Roger in his quest to bury a MiG 21 next to a science park on the outskirts of Prague, in collaboration with the Galerie Rudolfinum - one of Czech Republic's most prestigious contemporary art galleries.
They acquire the MiG by chance, the most widely produced supersonic fighter plane in the Eastern bloc during the cold war. To some Czechs, it looks like a toy - to others, it symbolises a painful moment in history.
"People understand that if they want a plane buried, talk to Roger."
Roger also takes us to a former RAF airbase in East Anglia. There, gathering mold, is a British ex-military jet which has enjoyed a truly unusual life. It's now destined to make one final journey to the Netherlands where it will be buried on the land of a private collector. Unlike the Prague burial, people will be able to enter this plane from above ground and sit inside.
For art critic Adrian Searle, these burials speak eloquently about environmental issues and globalisation. It's about misplacing objects, playing with systems of power and questioning brute masculinity.
Roger also believes the role of an artist in the future, might not be about making new objects, or new paintings, it might actually be about making new behaviour. So if you allow a plane to be buried - a new ritual or perspective is arrived at.
In a mysterious corner of Suffolk, we encounter Farmer Tim. Intrigued by the project, he helped Roger to bury a plane on his land last summer.
"It wasn't until we lowered the plane in and you could look at the nose did something say to me yeah I can see it now."
Produced by Victoria Ferran
A Just Radio production for BBC Radio 4.