Main content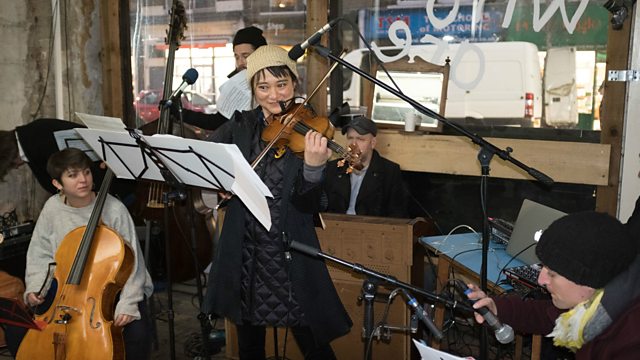 Beethoven's Violin Concerto as you've never heard it before
Featuring live electronics, tabletop objects, organ...and tap dancing
Experimental music collective Squib-CRAM perform a new mind-bending performance of Beethoven's Violin Concerto. A collaboration with violinist Chihiro Ono, the performance sees Chihiro playing the original solo part of the concerto completely straight, while the musicians behind her interpret Beethoven's score using a wide range of instruments, from cello, violin and double bass all the way to live electronics, tabletop objects, organ and the occasional bit of tap dancing.
This extraordinary performance was recorded at Squib-CRAM's gig 'Baggage', which took place at the Old Dentist in East London in December 2017. It originally appeared on Hear and Now on Saturday 3rd March 2018.
Listen to the full episode to hear an interview with Chihiro Ono alongside Squib-CRAM's Neil Luck and Benedict Taylor about how the piece came together.
Performers:
Chihiro Ono (violin)
Benedict Taylor (viola)
Gaia Blandina (cello)
Samuel Rice (double bass)
Adam de la Cour (voice, tap)
Federico Reuben (live electronics)
Laonikas Psimikakis-Chalkokondylis (Shakuhachi and guitar)
Neil Luck (tabletop objects and voice)
Neil Georgeson (organ)
Photo by James Birtwistle.
Duration:
More clips from Squib-CRAM at the Old Dentist
More clips from Hear and Now