Main content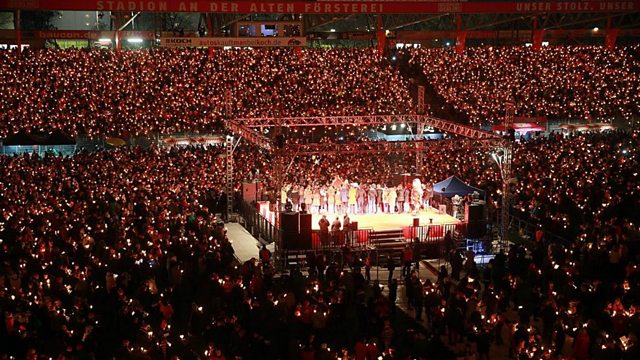 28,000 fans for Christmas, not football
One football stadium, 28,000 fans, 90 minutes of singing but not one football in sight
On a cold wintry night in 2003, 89 merry Union Berlin fans hatched a plan. The team had just lost their last game before the winter break, but the fans didn't want to say goodbye to each other without some Christmas joy.
So they broke into Union Berlin's stadium, drank mulled wine and sang Christmas carols. Little did they know that this act of deviance would lead to Christmas tradition.
Every year, the club arrange a Christmas Carol concert that regularly sells out their 28,000 capacity stadium. Many fans argue that the concert is more popular than the club.
Christian Arbeit, the clubs press officer and trumpet player on live events, explains why the gig has become a Christmas tradition in the German capital.
Photo: Union Berlin Christmas carols (@fcunion_en)
Duration:
More clips from Sportshour