Main content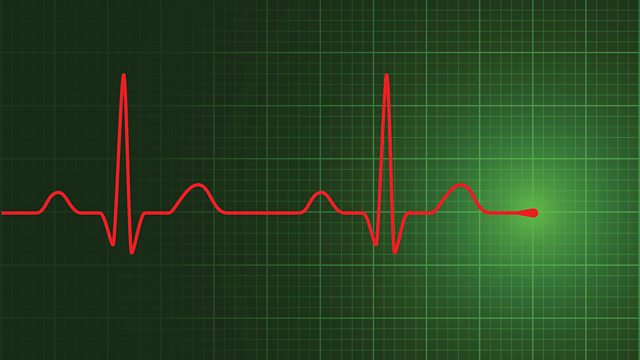 The Skipped Beat
From the heart of Michael Blastland comes a very personal and philosophical eulogy to the rhythm of the body's prime organ of life.
There's science, music, poetry and the deepest human experience in the rhythm of the heartbeat. That rhythm - the normal, heaving violence and beauty of an inner beast - sets the tempo for everything we do.
That is when it's dancing in time. Because about a third of us will one day have an agitating discordance at the heart of our lives - an irregular heart rhythm.
For presenter Michael Blastland, the experience of paroxysmal atrial fibrillation made him confront his own heartbeat for the first time. "It is one of the most disconcerting things to have this turbulence in your chest. This broken rhythm. I feel utterly unhinged in that state. I cannot think, cannot sit still."
In this programme, Michael explores what that rhythm, largely taken for granted, means to us. And what happens when it goes wrong.
We meet Mike, whose team mates kept him alive with CPR for over half an hour when he collapsed on the rugby pitch, and Paul, whose heart often stopped for eight seconds at a time. The poet George Szirtes argues that Tennyson's verse enacts his heartbreak. Director Kezia Cole reveals what happened when she projected an audience's heartbeats onto the set. And we follow consultant cardiologist Mike Koa-Wing into the operating theatre at Watford General hospital as he burns away the heart cells responsible for a patient's irregular heartbeat.
Ultimately, Michael asks, is disruption a worthy price to pay for appreciation? Is the heightened awareness of his own heartbeat, and the life that it fuels, worth the disturbing disturbance of arrhythmia?
Featuring original music by Simon Jarvis
A Whistledown production for BBC Radio 4.