Main content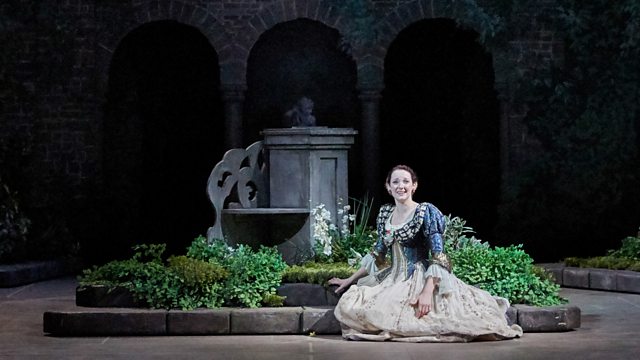 Le nozze di Figaro: Acts Three and Four
The second half of the performance, recorded in June 2017 at Garsington Opera.
ACT THREE
A hall in the castle, evening
Susanna deceives the Count into thinking that she will meet him in the garden but his suspicions are aroused and he is determined to outwit her. The Countess reflects on her past happiness and present wretchedness and humiliation. The Count's lawyer, Don Curzio, concludes that Marcellina's contract is legal: Figaro must either pay her or marry her. However, it emerges that Figaro is the long-lost natural son of Marcellina and Bartolo, who decide that they had better marry each other at once and make him legitimate.
The Countess agrees to take Susanna's place, wearing her clothes, to meet the Count in the garden. At her dictation, Susanna writes a letter confirming the assignation and fastens it with a pin, which he is to send back as acceptance. Meanwhile, Cherubino has been dressing up again and, encouraged by Barbarine, appears as one of a group of peasant girls. The Count penetrates his disguise but his anger is undermined by Barbarina. As the double wedding is celebrated with singing and dancing, Susanna contrives to give the letter to the Count. Figaro observes the exchange.
ACT FOUR
The garden, night
The Count has given Barbarina the pin to return to Susanna but she has lost it. Figaro finds her looking for the pin and leaps to the wrong conclusion, thinking that Susanna has made a genuine assignation with the Count.
The Countess and Susanna are disguised as each other and, in the darkness, a series of mistaken identities ensues. Figaro hides and watches as 'Susanna' pretends to long for the Count's embraces, in order to pay Figaro back for suspecting her.
Cherubino makes advances to the Countess, thinking she is Susanna. The Count makes the same mistake. Susanna carries on pretending to be the Countess but Figaro recognises her and they kiss and make up. The Count, seeing Figaro apparently making love to his wife, summons everyone to the spot to expose the treachery. The true state of affairs becomes clear. The Count acknowledges that he is in the wrong and the Countess gracefully yields to his entreaty for forgiveness. All join to proclaim her generous humanity.
The second half of the performance, recorded in June 2017 at Garsington Opera.
Duration: