Main content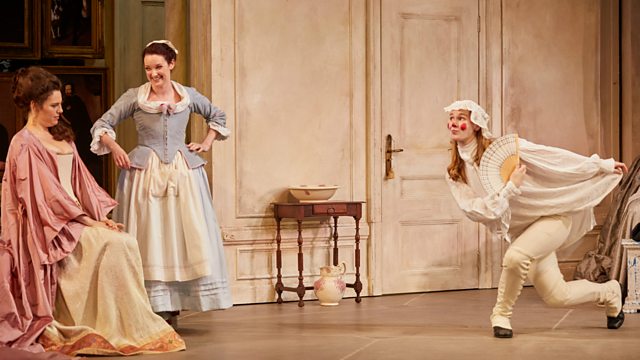 Le nozze di Figaro: Acts One and Two
The first half of the performance, recorded in June 2017 at Garsington Opera.
ACT ONE
A room in the castle, morning
Figaro is measuring the floor of the bedroom that has been assigned to him and Susanna by the Count. Susanna warns Figaro of their master's designs on her. Figaro has unwisely signed a contract agreeing to marry Marcellina, a spinster from Seville, if he fails to reply a sum of money that he once borrowed from her. She proposes to enforce the contract and Bartolo agrees to support her.
Cherubino is in disgrace because the Count has discovered him in a compromising situation with Barbarina, the gardener's daughter. Hearing the Count approach, Cherubino hides and overhears the Count propositioning Susanna. When Basilio arrives, the Count tries to hide in the same place and discovers Cherubino. Susanna and Figaro ask for the Count's blessing on their marriage, but he postpones the ceremony until later in the day, after the hearing of Marcellina's case for breach of promise. Realising that he has been overheard, the Count forces on Cherubino a commission in his regiment, with orders to depart on active service with immediate effect.
ACT TWO
The Countess's bedroom, later the same morning
The Countess laments the loss of her husband's love. Figaro alarms her and Susanna by telling them that he has sent the Count an anonymous letter, warning him that the Countess is planning to meet a lover. The plot develops: Susanna will agree to an assignation with the Count that night but her place will be taken by Cherubino, dressed as a girl. The Countess can then catch them red-handed. Figaro leaves the women to dress Cherubino accordingly, at which point the Count, having received the incriminating letter, storms in to confront his wife.
Thanks to Susanna's quick thinking, Cherubino manages to hide and then makes his escape via a window. The women confess to the Count that the letter was a hoax, before Figaro returns and complicates matters by denying all knowledge of it. Anotonio the gardener demands to know who has jumped into his flower bed. Marcellina has recruited Bartolo and Basilio as witnesses in the pursuance of her case. In the confusion, Figaro's wedding seems under serious threat.
The first half of the performance, recorded in June 2017 at Garsington Opera.
Duration: