Main content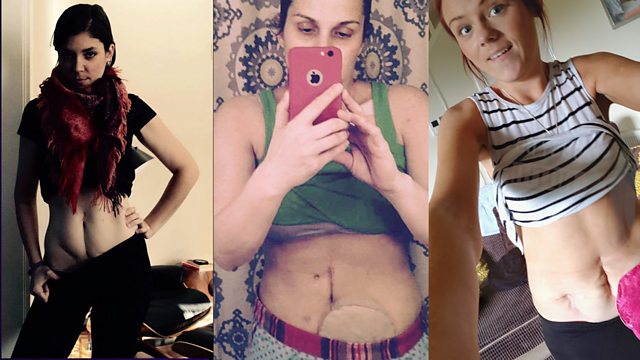 The selfie campaign urging you to 'get your belly out'
Meet the women who are best friends thanks to the #GetYourBellyOut campaign for people with Crohn's and colitis.
What's in a good selfie? Soft lighting? Perfect eyebrows? For Lorna, 35, and Kirsty, 30, it's a shot of their ostomy bags.
Lorna was diagnosed with Crohn's disease aged 21 and describes the pain as similar to being "stabbed".
Along with two other sufferers, Lorna has set up a campaign for people with bowel conditions.
The aim is to connect fellow sufferers and raise awareness through posting selfies with their ostomy bags and help boost confidence.
So far, the campaign has received over 10,000 pictures of Crohn's and ulcerative colitis sufferers baring their stomachs and bags.
It's also brought Lorna and Kirsty together, who met through the campaign and now support each other.
"I started Get Your Belly Out because I didn't want to feel alone, and I didn't want other people to either," said Lorna.
"The campaign gives people that nudge to be able to say it's OK to be a bit different," she added.
There are around 300,000 people living with Crohn's and ulcerative colitis according to Crohn's and Colitis UK.
This clip is originally from 5 live.
Duration:
More clips from In Short