Main content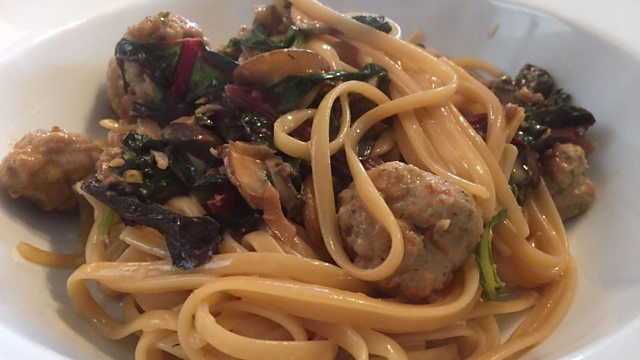 Food Friday - Linguine with sausage meatballs and chard
Food Friday this week is an autumnal pasta dish from Janine Finch.
Linguine with sausage meatballs and chard.
This seasonal pasta dish will be on the table in under 20 minutes. A great dish for this weekend if you have guests coming over. It has a velvety sauce that will wow your guests but it's not too filling. It's also great for a quick midweek meal when you have a couple of sausages left in the fridge.
It can be adapted if you can't get the lovely seasonal chard either to spring greens or cavolo nero (dark kale). Maybe a friend who has an allotment or veggie patch will gladly give you some.
Ingredients:
(Serves 2)
Sausage Meatballs:
• 3-4 pork sausages ( Meat taken out of the skins )
• A small handful of fennel fronds/tops chopped
• A sprig of sage chopped ( 4 leaves )
• Salt and cracked black pepper to season
Pasta:
• 200g, linguine ( I used dry )
• Good glug of Rapeseed oil ( I use cold pressed )
• 1 medium sized red onion diced
• 1 large clove of garlic chopped, use 2 if very small
• 4-5 chestnut mushrooms sliced
• A good pinch of chilli flakes
• 2 large handfuls chard chopped roughly, stalks a little smaller. If you can't get chard, use spring greens or cavolo nero.
• 1/4 gel pot of chicken stock
• 2 ladles hot water from the pasta
• Splash double cream
• fresh parmesan grated
Method:
• Cook linguine to packet instructions
• Mix together the sausage meat, herbs and seasoning and create small meatballs. This will make roughly 16 small sized ones.
• Whilst that is cooking, fry of the onion in rapeseed oil on a medium heat for a minute, then add in the mushrooms. You may need to add a little more rapeseed oil.
• After a couple of minutes bring your mixture to the sides of the frying pan.
• Add in your meatballs into the middle and cook for a couple of minutes, stirring as you go.
• After a couple of minutes, add in the garlic and toss all together.
• When the meatballs are starting to brown slightly, pop in the chard.
• As it cooks down, add in your chilli flakes and chicken stock.
• Add in the water from the pasta and reduce down for a minute or two.
• Drain off your pasta, keep some water if you feel you need to add a little more.
• Add the glug of double cream and a little grated parmesan
• Add your pasta to the sauce using tongs or a spaghetti spoon so you don't add too much at once. Fold the velvety sauce through the pasta.
• Serve into large pasta bowls and add a sprinkle of grated fresh parmesan.
Duration:
More clips from Ben Jackson