Main content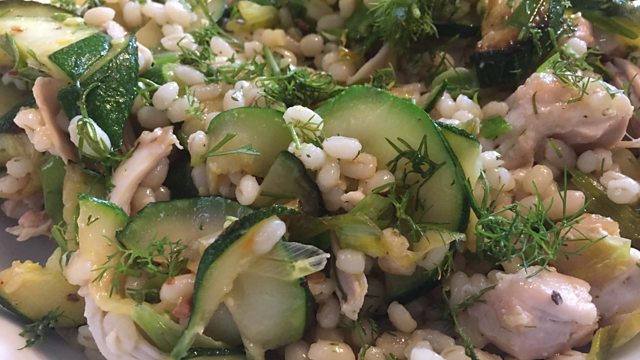 Food Friday - Warm Pearl Barley Salad
This week's Food Friday is from Janine Finch with ingredients straight from the garden.
Warm pearl barley salad with courgettes, leeks, herbs and chicken.
Ingredients:
• 75g of cooked pearl barley. I cooked mine in a little chicken stock and seasoned with cracked black pepper and sea salt once cooked.
• 2 tbsps of rapeseed Oil.
• 2 knobs of unsalted butter.
• 1 1/2 - 2 Courgettes sliced to the thickness of a one pound coin.
• 2 baby leeks or 1 small leek finely sliced.
• 1 large spring onions or 2 small sized ones finely sliced.
• 2 cloves of garlic roughly chopped.
• Approximately 100g of leftover roast chicken, shredded (I used chicken thighs and cooked mine in rapeseed oil with garlic, lemon thyme, oregano, sage, dill and fennel. Plus seasoned. I also added a few slices of lemon).
• A good handful of fresh herbs such as dill, fennel fronds and tops with pollen, and mint finely chopped.
• A few Squeezes of fresh lemon.
• Sea salt and cracked black pepper for seasoning.
Method:
• Fry off your courgettes for a couple of minutes in rapeseed oil.
• Add in your garlic and stir. Then pop in your leeks and cook for a further minute. Again stirring or tossing around the pan allowing your garlic not to stick or burn.
• Add the white parts of your spring onion, stir and then add in your butter. Cook for a further minute.
• By now the courgettes will be cooked and glossy with the butter. Season with cracked black pepper and a pinch of sea salt .
• Add to this mixture your green part of the spring onions and take off the heat.
• Sprinkle in your fresh herbs but save some dill and fennel fronds for serving.
• Pour your mixture into a bowl, add to this then your shredded chicken and pearl barley, Squeeze a little fresh lemon into the mix and give it a good stir.
• Serve into large bowls, add the remaining dill and fennel on top and a little extra squeeze of lemon ( if you like it extra zingy ).
• You can serve this on its own or with some toasted bread (a batard type). Use the same frying pan to lightly toast your bread if you do and it will give it wonderful flavour.
Duration:
More clips from Ben Jackson