Main content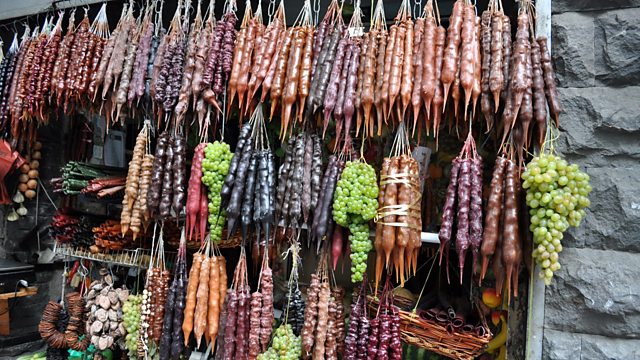 The Ark of Taste: Churchkhela
Dan Saladino samples the delights of a traditional Georgian sweet, churchkhela, at Kakheti market in eastern Georgia. Originally created to sustain ancient warriors, this sweet is now a popular healthy snack for children. Churchkhela, is made from a row of 8 or 9 walnuts with hazelnuts, almonds, cleaned pumpkin seeds and various dried fruit strung on a thread and then dipped into condensed grape or mulberry juice several times.
The churchkhela is complete when it is finally dry after several days and is 20-35 cm long. The condensed fruit juice and dried fruits, nuts and seeds have a pleasant sweet taste and the finished product is soft, dense and elastic. Walnut tress abound in Georgia, yet this traditional sweet is under threat from a cheaper and mass produced version.
Duration:
Featured in...
The Food Programme explores ingredients from The Ark of Taste.
More clips from The Food Programme