Main content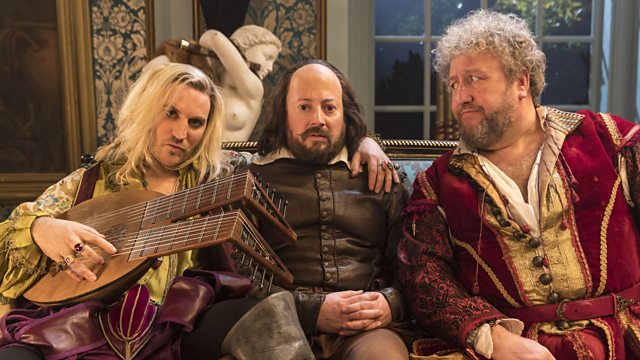 Comedy. Will has invented a musical and needs help from the greatest songwriter of the age: Thomas Morley. However, success looks far from guaranteed.
Will Shakespeare takes it badly when everybody tells him his new play about two sets of identical twins separated at birth and given the same names is rather far-fetched, until he hits on a sure-fire way to stop any audience minding when the plot gets really ridiculous - make it a musical. In fact, he is going to make it the first ever musical! And to really guarantee a hit he wants to use the songs of Thomas Morley, a rocking, rolling, madrigal-composing, tax-avoiding Tudor music legend. But what with Morley's ego and the sabotaging efforts of Will's deadly rival Robert Greene, success looks far from guaranteed.
Meanwhile, back in Stratford, Will's dad John is determined to get Will to use his new-found writing fame to make the Shakespeare family properly posh, which is turning out to be rather a big ask.
Clips

Credits
| Role | Contributor |
| --- | --- |
| Will Shakespeare | David Mitchell |
| Condell | Dominic Coleman |
| Thomas Morley | Noel Fielding |
| Kit Marlowe | Tim Downie |
| John Shakespeare | Harry Enfield |
| Lucy | Jocelyn Jee Esien |
| Kydd | Mark Phoenix |
| Robert Greene | Mark Heap |
| Kempe | Spencer Jones |
| Susanna Shakespeare | Helen Monks |
| Bottom | Rob Rouse |
| Burbage | Steven Speirs |
| Anne Shakespeare | Liza Tarbuck |
| Kate | Gemma Whelan |
| Mary Shakespeare | Paula Wilcox |
| Judith Shakespeare | Rosanna Beacock |
| Hamnet Shakespeare | Joe Willis |
| Spencer | Andrew Bicknell |
| Nashe | Simon Coleman |
| Writer | Ben Elton |
| Director | Richard Boden |
| Producer | Gareth Edwards |
| Executive Producer | Chris Sussman |