Main content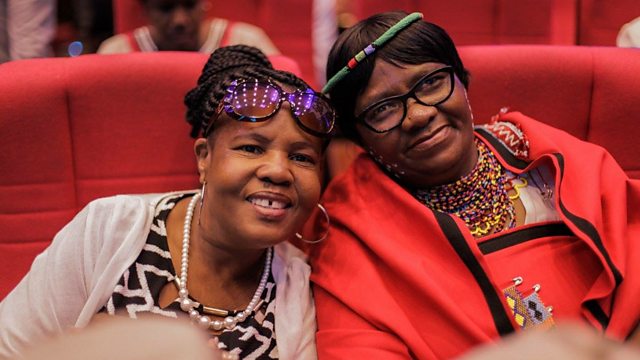 South Africa five years on, still no justice for women of Marikana
Thirty-four miners were killed during a strike in SA in 2012 but no-one was prosecuted
Primrose Sonti and Thumeka Magwangqana live in Nkaneng, South Africa - not far from the scene of the 16 August 2012 massacre, when 34 miners from Marikana's Lonmin platinum mine were killed.
The miners were on strike over wage demands, and a subsequent official inquiry into the incident put much of the blame for the deaths on the tactics used by police to disperse the 3,000 strikers.
The death toll continued to rise in the weeks following the massacre, with police raiding mining hostels in search of weapons. Primrose's close friend Paulina Masuhlo, an ANC PR councillor, was hit by rubber bullets and later died.
Her death and those of the miners spurred Thumeka and Primrose to campaign for justice.
The two women were in London to promote a documentary, called Strike a Rock, about the Marikana events. They spoke to Focus on Africa's Audrey Brown, and Primrose started by recalling the day the miners were killed.
(Image: Thumeka Magwangqana (L) and Primrose Nokulunga Sonti (R). Credit: Aliki Saragas )
Duration:
More clips from Focus on Africa