Main content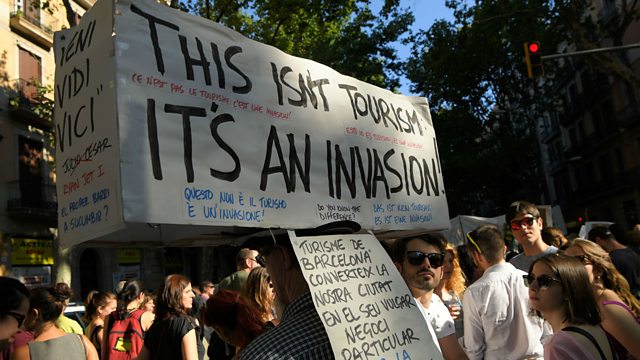 Spanish protesters turn on tourists
Indications of pressure building as tourism grows 'too quickly' in some Spanish cities
A council meeting will be held in Barcelona today to discuss the ongoing problem of attacks against tourists by protesters in some of the biggest Spanish tourist hotspots.
Pilar Carbonell, general manager for tourism for the Balearic Islands Government, tells Justin Webb: "The problem we have in Palma de Mallorca and Ibiza is that locals cannot find places at reasonable prices as places are rented out (to tourists) on online platforms illegally."
She adds that local authorities will have to do more to determine when these properties are allowed to be rented out and when they are not.
Mark Tanzer is the chief executive of the Association of British Travel Agents. He thinks "tourism does bring great goods, it brings economic growth...it is a question of how governments and municipalities can balance the good things tourism brings with the downsides like social and environmental impact, we need to develop better tools for that."
(Image: Protesters hold banner against tourism; Credit: Getty Images)
Podcast
Insight, analysis and debate as key figures are challenged on the latest news stories.