Main content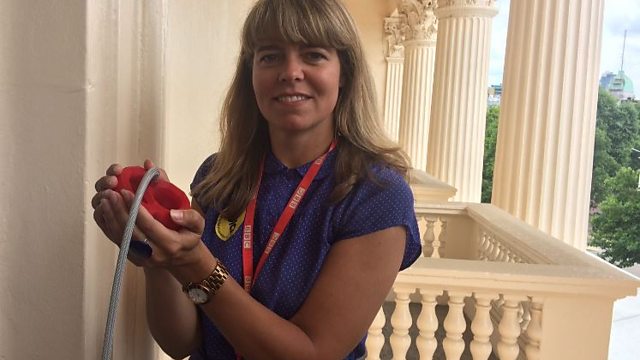 Medical Research from the Royal Society Summer Exhibition
Smart surfaces to help cut hospital infections; scans to understand voices better; an app to help people with paranoid thoughts; holding a beating heart in your hands
Scientists have been meeting at London's Royal Society since 1660 – and some of the latest research behind medical advances are on show there this summer.
When water lands on lotus leaves it bounces off in droplets, taking any dirt along with it. Scientists at University College London are incorporating similar hydrophobic properties into surfaces and devices used in hospitals to try and reduce the spread of infections - alongside other surfaces which actively kill bacteria.
You can tell a lot from a voice. Researchers from London have been putting rappers and impressionists in an MRI scanner to capture their vocal acrobatics. It's hoped that this will shed light on how speech therapists can best help those with speech problems caused by a cleft palate or a stroke.
Researchers from Kings College London are testing a new phone app which helps people with paranoid thoughts to slow down their thinking. Interactive thought bubbles – created during therapy sessions – can help to identify what helps during times of stress.
A soft robotic heart – which beats in time to your own pulse – is another the exhibit, designed to show how different diseases affect the shape, size and blood flow of the heart.