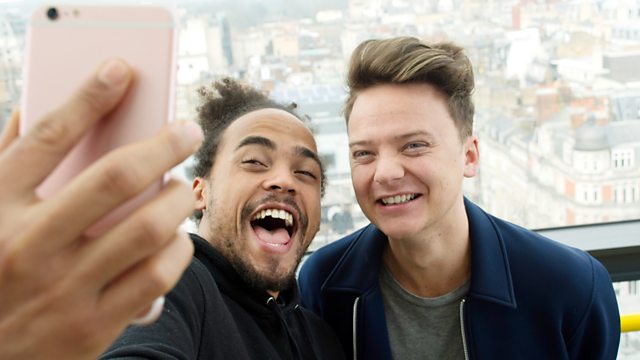 30 Days To Get Instafamous
What would it take to get 10,000 followers on Instagram in just one month? Radio 1's Dev meets some of Britain's brightest social media brains to help him build on his starting point of 21 followers. The most recent figures suggest that the photo and video sharing platform is used by 60 per cent of 18-30 year olds, so Dev is pretty late to the party. But if David Beckham can get to 5 million followers in just 3 days, how hard can it be?
In this entertaining documentary we follow Dev as he uses all the tricks of the trade to try to become Instafamous. Social media guru Conor Maynard, who has 1.2 m followers on Insta and even more on Facebook and Youtube, agrees to be Dev's wingman and promises to help where he can throughout Dev's 30 day quest for followers.
And he also enlists the help of a host of other successful Instagrammers who offer their top tips for success. Photographer Joseph Sinclair and his celebrity canine Stewie give Dev a selfie masterclass. Steph, Brad and Joe from social media agency Battenhall, provide him with a much needed re-brand for his page. Health and fitness influencer Kash teaches Dev about the importance of engaging with followers. Mo the comedian, whose account is currently on fire, tells him he needs to step up his game and find his own niche. Along the way Dev also discovers that social media can make you self-conscious, and sometimes have a seriously damaging influence on people's lives. He meets Frances, who uses her account to promote recovery from anorexia and helps to steer people away from images and hashtags that perpetuate the disease.
After a couple of weeks of hard social media grafting Dev's following is looking far from respectable, and he is finding the challenge much tougher than he ever imagined. He goes all out with selfies, posting and calls upon familiar Radio 1 faces to give him a boost. Successful instagrammer Greg James lends a helping hand, and other high profile pals (human and otherwise) also step in to promote him.
As the thirty days are coming to an end, will Dev make his 10,000 target, or will he have to hustle Conor Maynard for a final favour? Tune in to find out.
Credits
| Role | Contributor |
| --- | --- |
| Presenter | Dev |
| Director | Ida Bruusgaard |
| Producer | Aminah Brunt |
| Executive Producer | Danni Davis |
| Idea Originator | Mo Ayoub |
| Idea Originator | Jess Dawson |
| Idea Originator | Chris Lloyd |
| Idea Originator | Henrie Kwushue |