Main content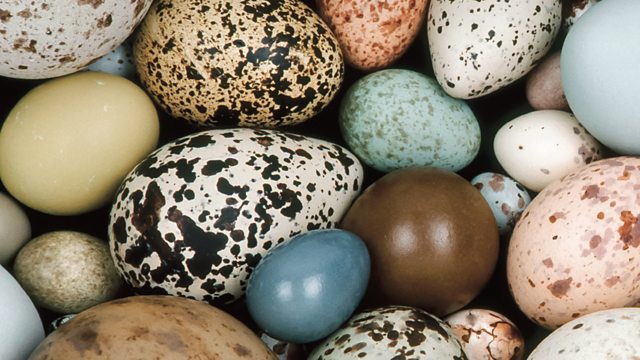 Why Bird Eggs are not all 'Egg-shaped'
Why Bird Eggs are not all 'Egg-shaped'. Also, making heart valves with a souped-up candyfloss machine, measuring underground water reserves in Bengal and new mining tech in Chile
Bird's eggs are not all shaped like a chicken's egg, there is a huge diversity in the shape of bird's eggs. From the almost spherical eggs of owls, to the conical guillemot egg and the zeppelin-shaped Mallee fowl eggs. It seems that the flying ability of a bird species is a major evolutionary driving force to what shape eggs they lay.
Making Heart Valves
Replacement heart valves are not a new thing. There are plastic ones and you can use animal heart valves. The main problem is these are all one fixed size. What if a growing child needs a new heart valve? This is where the new technique of engineering these vital valves comes in. Researchers at Harvard University have come up with a way to create heart valves that grow with the body. And one of the bits of kit they use is a bit like a souped-up candyfloss machine!
Measuring Underground Water Reserves in Bengal
Water stored under the ground in the Bengal Basin in North India is a vital source of fresh water for over 100 million people. The usual way to measure how much water is in these deep ancient porous sedimentary reservoirs is to measure the water level in a borehole. But new work has shown that when it rains (as in the monsoon), the increased weight of surface water from rainfall, lakes, rivers and flooding press down on the surface of the earth, increasing the pressure of water underground and thus giving a false reading of how much groundwater is there.
New Mining Technologies in Chile
Mining for copper, gold and other metals is big business in Chile. But prospecting for good sites in rugged and remote locations can be dangerous. Two new prospecting techniques, one using drones and the other measuring micro earthquakes are helping to find the best sites to mine safely and remotely.
Picture: Shaping of eggs, credit: Science/PA Wire
Presenter: Roland Pease
Producer: Fiona Roberts
Last on

BBC World Service
except News Internet
Broadcasts
BBC World Service

except News Internet

BBC World Service

Americas and the Caribbean

BBC World Service

except Americas and the Caribbean, East and Southern Africa, News Internet & West and Central Africa

BBC World Service

East and Southern Africa

BBC World Service

Australasia

BBC World Service

except News Internet