Main content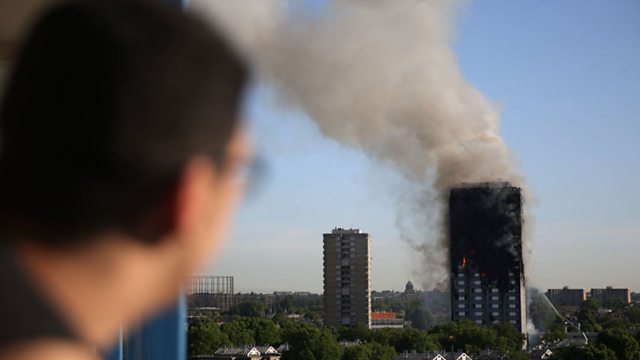 High Rise Living - Why No Worldwide Safety Standards?
Catastrophic high-rise fires have cost needless deaths in China, the Emirates, Russia and the UK. So why haven't lessons been learnt?
As the UK Prime Minister orders a public inquiry into the fatal fire in London - which killed at least 17 people - the Mayor of London has faced an angry crowd demanding answers to why such a preventable catastrophe happened. In the wake of similar fires worldwide, we speak to Sean Smith, Professor of Construction Innovation at Edinburgh Napier University. An expert in building regulations, he tells us how such needless deaths can be prevented.
Senior figures from the US administration are hosting a gathering of Central American leaders in Miami to work out new ways of working together - at a time when budget cuts are going to have an impact on what can and can't be done. The BBC's Luis Fajardo is covering the conference for us.
In the Kenyan capital, Nairobi, representatives from more than a hundred countries meet at a conference to discuss how farmers could maximise data sharing to improve their businesses. We hear what they've had to say. Meanwhile a maize shortage is making it hard for shoppers to buy flour in the shops. Farmers have run out - government silos are empty - and imports can't keep up with demand. Ferdinand Omondi travelled to Eldoret to find out what's been going wrong.
Next week mobile phone roaming charges are being scrapped for people who live and travel within the 28 - for now - member states of the European Union. They'll be able to call, text and use the web on a mobile device for the price they pay at home. Joe Miller has been getting reaction on the border between Poland and Germany.
And....as Elon Musk and his Falcon rocket programme aims to made the dream of commercial space travel a reality with SpaceX; we hear from a rival in New Zealand. Peter Beck is founder of a company called Rocket Lab, testing his own small-scale, low-cost Electron rocket to take satellites into space. He's been talking to us about his dream to aim for the stars.
Throughout the hour we hear analysis and debate from both sides of the globe with Kara Alaimo - Assistant Professor at Hofstra University and Author of "Pitch, Tweet, or Engage on the Street" in New York and Tony Nash - chief economist at Complete Intelligence - from Singapore.
Picture Credit: DANIEL LEAL-OLIVAS/AFP/Getty Images
Resident of a nearby council estate watches smoke billowing from Grenfell Tower on June 14, 2017 in west London. The massive fire ripped through the 27-storey apartment block in west London in the early hours of Wednesday, trapping residents inside as 200 firefighters battled the blaze.
Last on
BBC World Service
except News Internet
Broadcast
BBC World Service

except News Internet