Main content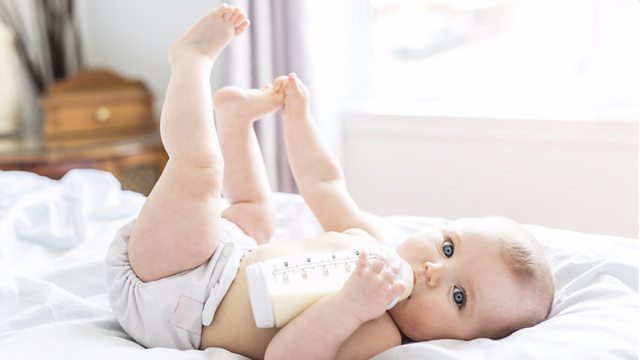 Infant Formula
In 1865 Justus von Liebig invented Soluble Food for Babies. It was the world's first commercial substitute for breastmilk and it has helped to shape the modern workplace.
Not every baby has a mother who can breastfeed. Indeed, not every baby has a mother. In the early 1800s, only two in three babies who weren't breastfed lived to see their first birthday. Many were given "pap", a bread-and-water mush, from hard-to-clean receptacles that teemed with bacteria. But in 1865 Justus von Liebig invented Soluble Food for Babies – a powder comprising cow's milk, wheat flour, malt flour and potassium bicarbonate. It was the first commercial substitute for breastmilk and, as Tim Harford explains, it has helped shape the modern workplace.
Editors: Richard Knight and Richard Vadon
Producer: Ben Crighton
(Image: Baby lying down drinking from bottle, Credit: Lopolo/Shutterstock)
Sources and related links
Justus von Liebig - The Chemical Gatekeeper (Cambridge Science Biographies), William H Brock, 2002 
Harvey A. Levenstein  - Revolution at the Table: The Transformation of the American Diet, University of California Press, 2003 
Marianne R. Neifert  - Dr. Mom's Guide to Breastfeeding, Plume, 1998 
Geoff Talbot - Specialty Oils and Fats in Food and Nutrition: Properties, Processing and Applications, Woodhead Publishing, 2015, p287  
Bertrand, Marianne, Claudia Goldin and Lawrence F. Katz - "Dynamics of the Gender Gap for Young Professionals in the Financial and Corporate Sectors." American Economic Journal: Applied Economics, 2(3): 228-55, 2010 
Tambora erupts in 1815 and changes world history 
Emergency relief during Europe's famine of 1817 anticipated crisis-response mechanisms of today 
Maternal mortality in the past and its relevance to developing countries today 
Maternal mortality ratio (modelled estimate, per 100,000 live births) 
Infant feeding through the ages 
How parental leave rights differ around the world 
Why Mark Zuckerbery taking paternity leave really matters 
The effect of maternity leave length and time of return to work on breastfeeding 
Women face many barriers to breastfeeding; stronger national policies and programs key to eliminating them 
Market overview: Identifying new trends and opportunities in the global infant formula market 
Every parent should know the scandalous history of infant formula 
Got breast milk? If not, a Utah County company has you covered with imported Cambodian milk
Broadcasts
BBC World Service

except East and Southern Africa, News Internet & West and Central Africa
Podcast
Tim Harford tells the fascinating stories of 50 inventions, ideas and innovations which have helped create the economic world.