Main content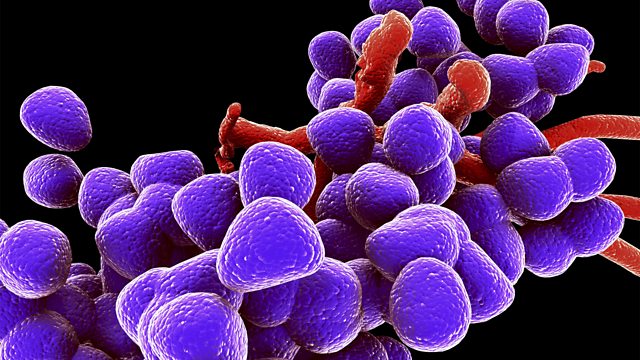 Ultra-Tough Antibiotic to Fight Superbugs
Ultra tough antibiotic; Simprints; DNA from mummies; More gravitational waves detected; Mercury pollution from gold mining; Safer gold extraction
After years of work a team at Scripps Research Institute in the US has re-engineered the antibiotic, vancomycin – which is used to treat conditions such as serious diarrhoea – so that bacteria cannot develop resistance to it. Claudia Hammond talked Dr Tim Jinks, Head of the Drug Resistant Infections Programme at the Wellcome Trust.
Gareth Mitchell talks to Alexandra Grigore, the CEO of Simprints which has developed an inexpensive biometric scanner, mobile app, and cloud platform that could become the first identity provider for over a billion people who do not have formal IDs. The technology uses people's fingerprints to accurately link them to records.
Ancient Egyptian mummies give up their genetic secrets. Mitochondrial DNA from mummified remains show how much ancient Egyptians interbred with populations from Asia, Africa and Europe.
The first detection of gravitational waves, announced February 2016, was a milestone in physics and astronomy; it was quickly followed by another find. Now teams working on the LIGO detector have just announced their third new detection. All three signals are thought to be caused by two black holes merging. This time the spin might give clues as to where the original stars formed.
Mercury pollution in Colombia's environment is the third highest in the world due to its gold mining industry. BBC Reporter Natalio Cosoy travelled to Segovia in Colombia - the area in the country with the highest mercury contamination - to find out how using mercury for processing gold is impacting on the health of miners and the surrounding community. But scientists at the University of Leicester have used rock samples from a gold mine in Scotland to prove they can do the job a different way, using a mixture of vitamin B4 and urea and avoiding toxic mercury.
Image caption: Computer artwork of Enterococcus faecalis bacteria (previously known as Streptococcus faecalis) © SPL
The Science Hour was presented by Gareth Mitchell with comments from BBC News reporter, Smitha Mundasad
Producer: Caroline Steel