Main content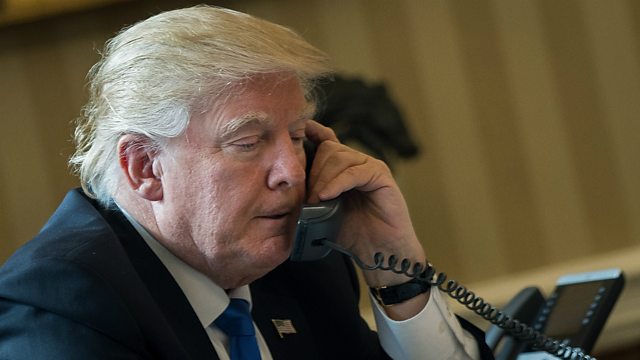 Trump and Russia: A Long Relationship
How do you separate fact from rumour in President Trump's connections with Russia?
President Trump's connections with Russia is a story that won't go away. There are so many allegations flying around that it can be difficult to separate what is actually known and what is rumour. The President and his supporters have one key point - that despite all the coverage and official investigations, there is still no evidence of collusion between the Trump campaign and Russia. Nor is there evidence that Trump's business connections to Russia are other than legitimate. But did Russia try to influence the election outcome? And what about the stream of stories linking members of Trump's team to Russia? As a special counsel is appointed to oversee the investigation into alleged Russian interference in the US presidential election, Owen Bennett Jones and panel of expert guests marshal the facts and explain what is known for sure about Donald Trump's longstanding relationship with Russia.
Photo: Donald Trump in White House talking on phone to President Putin, 28 January 2017. Credit: Getty Images
Contributors
Paul Wood - BBC correspondent, one of the first journalists to receive the dossier produced by former British intelligence agent Christopher Steele 
Edward Lozansky - President and Founder of the American University in Moscow
James S Henry - lawyer, investigative journalist, and former chief economist at McKinsey & Co.
Elena Panfilova - head of the Laboratory for Anti-corruption Politics at the Higher School of Economics and chair of Transparency International in Russia
Steve Rosenberg - BBC Moscow correspondent
Gabriel Gatehouse - BBC correspondent, specialist in Ukraine