Main content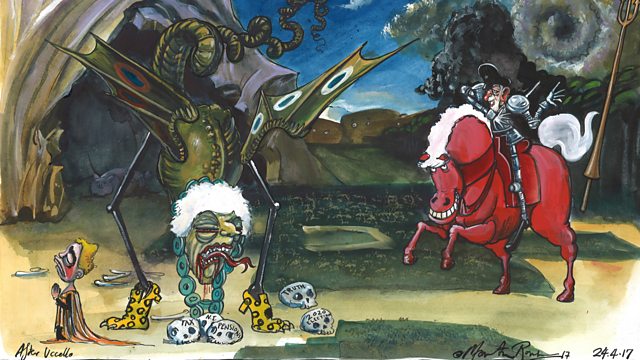 The Art of the Political Cartoon
How are political cartoonists portraying UK politicians in the build-up to the election?
As voters in the UK get used to the fact that a snap election has been called, political cartoonists Dave Brown and Martin Rowson have been sharpening their pencils to expose what they see as the truth beneath the spin.
Kenya Hakuna Matata is a happy, carefree song praising the beauty of the country. So why did a Kenyan musician Teddy Kalanda Harrison change his song into a warning for politicians ahead of the August elections there?
As the civil unrest in Venezuela escalates, author Angelica Alvaray argues that her country must stop forgetting its history and start to learn lessons from its past.
How participating in a literary festival to discuss murder mysteries in one of the world's most dangerous cities, Karachi in Pakistan, proved a thrilling experience for novelist SS Mausoof.
Presenter: Tina Daheley
( Photo: Political cartoon of the three main party leaders in the UK. Credit: Martin Rowson)
Broadcasts
BBC World Service

except East Asia, Europe and the Middle East, News Internet & South Asia

BBC World Service

except East and Southern Africa, News Internet & West and Central Africa