Main content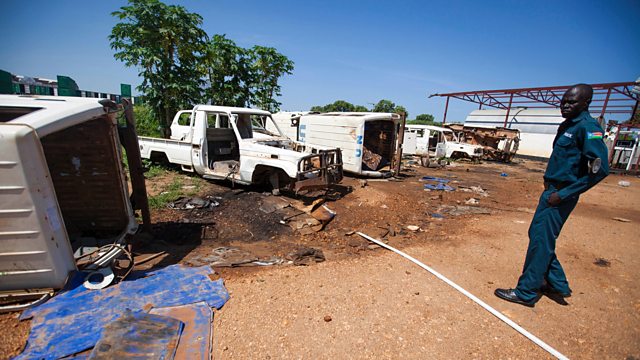 South Sudan: A Failure to Act
Reconstructing the events of 11 July, one of the worst attacks on aid workers during the civil war. Tomi Oladipo talks to survivors, witnesses, and members of the UN mission.
**Some viewers may find parts of this report difficult to listen to**
"Hiding in the bathroom. They're trying to break down our door. We maybe have about five minutes." Juba, capital of South Sudan, 11 July 2016. The female aid worker sending this message was among a number of international and local staff taking refuge behind a bullet proof door in the housing compound where they lived. Tensions were running high in South Sudan's three year civil war and government troops had gone on the rampage attacking the compound. As the soldiers tried to break down the door, the terrified group frantically appealed to United Nations peacekeepers based just over a kilometer away. Using their phones and sending messages via Skype and Facebook their calls for help went unheeded.
In the hours that followed, one South Sudanese journalist was murdered in an execution style killing. At least five women were raped. It was one of the worst attacks on aid workers in the civil war. South Sudanese troops also attacked civilians next to the UN HQ in the days after 11 July. Some of these attacks - including rapes - reportedly took place within sight of peacekeepers. The UN Secretary General subsequently ordered a special investigation. It found that a lack of leadership on the part of key senior Mission personnel culminated in a chaotic and ineffective response to the violence.
The BBC's Tomi Oladipo reconstructs the events of 11 July, speaking to those who survived the attacks, witnesses to the violence and members of the UN mission. He pieces together the events of the day using these accounts as well as the messages sent requesting help. He asks what lies behind the UN's repeated failure to act in cases like this.
Producer: Rob Walker
(Photo: A police officer examines the remains of the logistic base of the United Nations (UN) organisation World Food Program (WFP), Jebel district, Juba. Credit: Albert Gonzalez/AFP/Getty Images)
Last on
BBC World Service
except News Internet
Broadcasts
BBC World Service

except News Internet

BBC World Service

except News Internet