Main content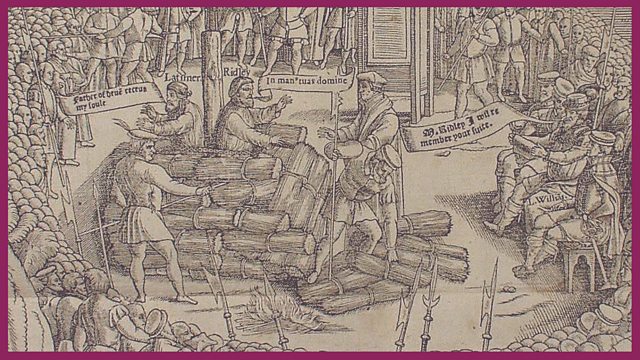 9. Martyrs
Religion, intolerance and martyrs in the reign of Queen Mary
Synopsis
The 1550s in Oxford. A young protestant - Christopher Gray - is thrown into a prison cell, where he joins Jack, a vagrant. It is Christopher's fervent belief that the bible should be available to all written in English, which is currently banned under Queen Mary.

Christopher recalls how we walked across the country from his home in Kent, smuggling bibles along the way. But his activities were discovered one evening in a tavern and he was brought to Oxford for questioning.

Christopher is taken before the Bishop of Oxford who tells him that he will burn at the stake unless he is willing to change his views. To provide some 'encouragement' the Bishop takes Christopher to witness the execution by burning of the bishops Ridley and Latimer.

Christopher is shocked by the suffering of the two bishops...but he remains resolved. Reluctantly the Bishop of Oxford concludes there is no way to prevent Christopher from becoming another martyr.