Main content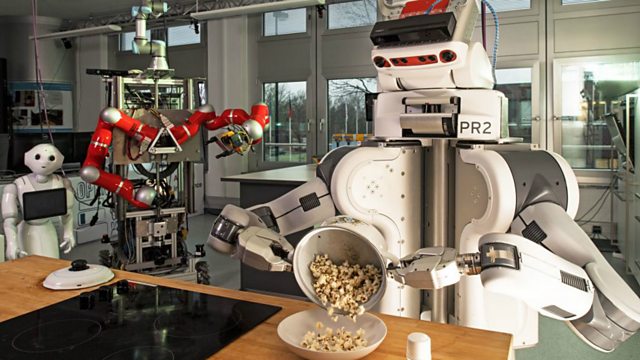 Machine Learning
Computers are about to get a lot smarter - but should we fear or embrace the future of machine learning?
Machines are about to get a lot smarter and machine learning will transform our lives. So says a report by the Royal Society in the UK, a fellowship of many of the world's most eminent scientists. Machine learning is a form of artificial intelligence that's already being used to tag people in photos, to interpret voice commands and to help internet retailers to make recommendations.
Manuela Saragosa hears about a new technology that is set to revolutionise computing, developed by a UK company called Graphcore. Manuela talks to Graphcore's chief executive Nigel Toon, who is taking on the AI giants.
And Manuela hears how we are 'bleeding data' all the time. Dr Joanna Bryson from the University of Bath and professor Amanda Chessell, an IBM distinguished engineer and master inventor, explain how our data is being used.
(Photo: A robot pours popcorn from a cooking pot into a bowl at the Institute for Artificial Intelligence (AI), University of Bremen, Germany. March 2017. Credit: Ingo Wagner/AFP/Getty Images)
How the 2008 crash shaped our world