Main content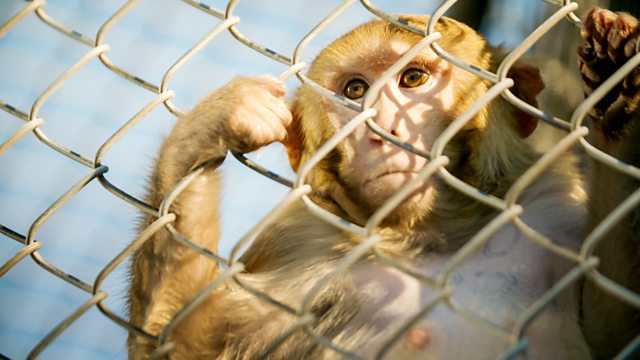 The Monkey Lab
Documentary exploring the issues surrounding the use of monkeys in medical research, hearing from those carrying out the research and those protesting against it.
Documentary exploring one of the world's most heated and divisive debates: is it right to take monkeys' lives to try to improve the lives of humans? Who decides what is acceptable, and where do you draw the line?
Despite huge advances in medicine, scientists argue that the use of monkeys in medical testing is still crucial to cure certain diseases. However, anti-vivisection activists and three quarters of the British public disagree with testing on monkeys. In this documentary we visit the Biomedical Primate Research Centre in the Netherlands, where 200 rhesus macaque monkeys are used each year to help find cures to some of the world's most deadly diseases. We meet those on the front line of this work, from the deputy director of the lab, who believes their work is essential to help stop human suffering, to the animal trainers who get to know the monkeys well and have to wrestle with their emotions every day, knowing that the animals they work with will die in the research lab. We also speak to the activists who protest outside the facility daily in the hope that one day it will be shut down.
The film also hears from the people whose lives rely on this kind of research, including 27-year-old Rich, who recently contracted HIV. Thanks to the last 30 years of research, in which monkey testing played a crucial role, Rich's future looks very different to that of people diagnosed in the early 1980s.
Twenty-one-year-old Jordan is currently on a cocktail of drugs to help treat the symptoms of his young-onset Parkinson's. However, they have terrible side effects, and Jordan is desperate for new and improved drugs. Crucial to this is the research taking place at King's College London, where marmoset monkeys are given the symptoms of Parkinson's disease before being used to test new medicines.
In Oxford we meet leading neurosurgeon and advocate of animal testing Tipu Aziz, whose controversial use of monkeys 30 years ago lead to a non-drug-based treatment of Parkinson's symptoms using deep brain stimulation.
What does the future have in store for the research monkeys? The film explores the work of Professor Paul Furlong at Aston University in Birmingham, who is using state-of-the-art computer imaging to find new ways to understand the human brain and is challenging the continued use of monkeys in research. We also return to the Biomedical Primate Research Centre in the Netherlands and spend time with the head of their Alternatives Department, whose job is to reduce the number of monkeys used in research with the hope of eventually not using monkeys at all.
Credits
| Role | Contributor |
| --- | --- |
| Executive Producer | Emma Cooper |
| Production Company | Pulse Films |