Main content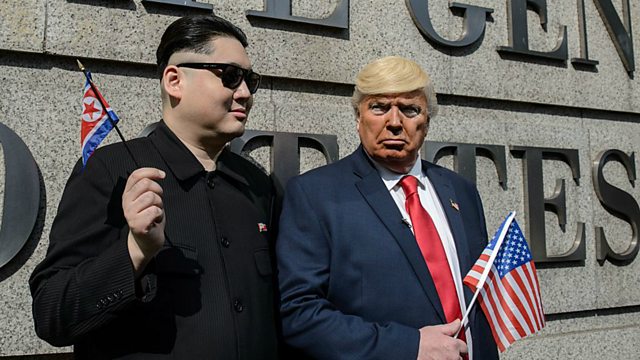 Trump v China, Should We be Scared?
Mr Trump warns the US could tackle the North Korean threat alone, ahead of talks with China's President, Xi Jinping.
As President Trump prepares for key talks with China's President Xi Jinping, we hear from the editor of the Financial Times, Lionel Barber, who warns that Mr Trump is threatening to go it alone in tackling North Korea, if Beijing refuses to help. Fresh from an interview with Donald Trump in the Oval Office, Mr Barber tells Ed Butler that there is cause to be concerned about the risk of US military action against North Korea. Ed also hears what to expect from the US-China trade discussions this week, with Peter Trubowitz, director of the US Centre at the London School of Economics.
And Jennifer Pak reports from Shenzhen in Southern China on the Chinese 'makers', coming up with new ideas (not stolen ones). And Lucy Kellaway says sexism is never acceptable, no matter how old you are.
(Picture: North Korean leader Kim Jong-un, impersonated by Hong Kong actor Howard, and US President Donald Trump, impersonated by US actor Dennis, pose outside the US consulate in Hong Kong on in January 2017. Credit:ANTHONY WALLACE/AFP/Getty Images)
How the 2008 crash shaped our world