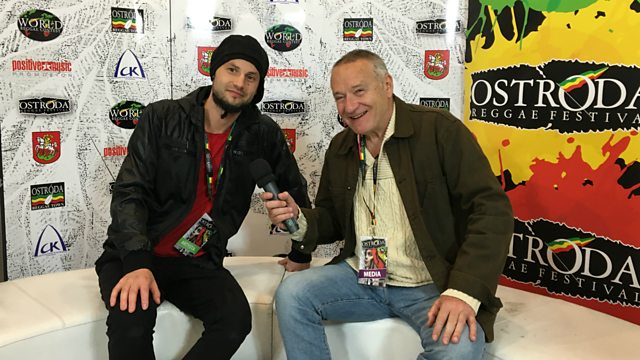 Get Up, Stand Up: Reggae in Poland
What makes the sweet rhythmical music of a Caribbean island so appealing to young people in the eastern European country of Poland? How did a reggae singer with dreadlocks come to win the TV show Poland's Got Talent? And why is Poland one of the biggest markets for reggae music in the world?
Bob Marley's biographer Chris Salewicz reports from the annual Ostroda Reggae Festival where ten thousand Poles gather for three days at a former communist army camp to hear artists and bands like Bednarek, Jah9, Damian Syjonfam and Nattali Rize celebrate the music of Jamaica.
Pioneers of Polish Reggae including Robert Brylewski from Poland's first reggae band Izrael and Tomasz Lipinski from the influential punk/reggae outfit Brygada Kryzys explain how the music took root during the 1980s as a vehicle for protest against martial law. London-based Jamaican Norman Grant describes his visits to Poland at that time to collaborate and make records with the traditional Polish mountain musicians Trebunie.
Backstage in Ostroda artists from Poland, Jamaica and around the world talk about keeping Bob Marley's spirit alive and discuss how reggae is now seen both as a voice for protest against Poland's current right wing government and as a means of propagating a fundamentalist Catholic message which is at odds with Marley's rasta ideology.
At the climax of the festival, reporter Chris Salewicz is invited on stage to act as one of the judges for the annual World Reggae Contest won by Dutch band The Dubeez.
(Photo: Polish Reggae artist Damian Syjonfam with presenter Chris Salewicz)
Last on