Main content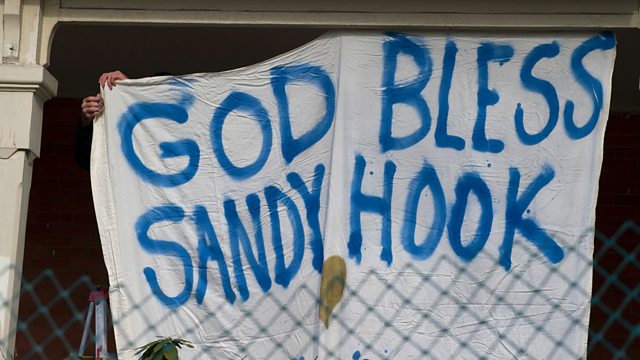 The Sandy Hook Hoaxers
Fake conspiracy theories claim that the Sandy Hook massacre never happened. Now, after years of harassment, families of the victims are fighting back online.
A paranoid conspiracy theory has acquired a new, disturbing power in America. It has been spread by an alternative media outfit – with links to President Trump.
Twenty-six people, mostly young children, died at Sandy Hook Elementary School in 2012. They were the victims of a man named Adam Lanza, who killed himself after the slaughter. It was a shocking tragedy, even in a country used to regular gun violence.
Soon false rumours began to circulate online, that the attacks were staged using actors. Although they had no basis in truth, hundreds of YouTube videos, blogs, and tweets repeated the conspiracy theories. And the rumours were pushed by an alternative media mogul named Alex Jones. His online news site Infowars has millions of listeners and viewers. He's interviewed President Trump, who has repeated Infowars stories on his Twitter feed and in speeches.
One of the fathers who lost their children in the shooting was Lenny Pozner, whose son Noah was killed. And, as it happens, Lenny Pozner was also a fan of Infowars, which is how he first found out that people were saying that his family tragedy – and those of dozens of others – had been entirely staged.
As the 'hoaxers' went to greater extremes to spread their fake news – even targeting grieving parents - Lenny Pozner led the online fight back. With the help of the Sandy Hook community, tried to turn the tables on the conspiracy theorists.
Conspiracy theories are a perennial feature of American life. But now they can be picked up by extremists and spread virally through social media - and they can reach the ears of the president himself.
Producer: Sam Judah
Presenter: Mike Wendling
(Image: A mourner hangs a sign on the front of his home near Sandy Hook Elementary School in 2012 / Credit: Don Emmert / AFP / Getty Images)
Last on

BBC World Service
except News Internet
Broadcasts
BBC World Service

except News Internet

BBC World Service

Americas and the Caribbean, East and Southern Africa, East Asia, South Asia & West and Central Africa only

BBC World Service

except News Internet

BBC World Service

except News Internet