Main content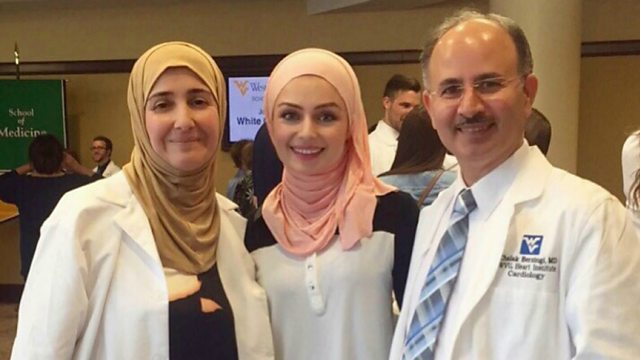 Unlikely Friends
An Iraqi doctor finds acceptance in Trump country
Chalak Berzingi fled Iraq and landed in Trump country. He learned to love his town and the town learned to love him.
Also, a Holocaust survivor and the grandchild of Nazis share a home in California; author Deepak Singh runs into somebody who reminds him eerily of... himself; the grandson of the man who helped drop atomic bombs on Japan wants to tell the victim's stories; a scientist shares a bond with a shark named Lydia; and children in Texas play a game of tug of war with children in Mexico.
(Image: Chalak Berzingi poses with his wife, Mayada Issa, and his daughter, Seher Berzingi. Credit: Courtesy of Chalak Berzingi)
Podcast
How the world looks through American eyes, and the myriad and unexpected ways that the world influences the United States.