Main content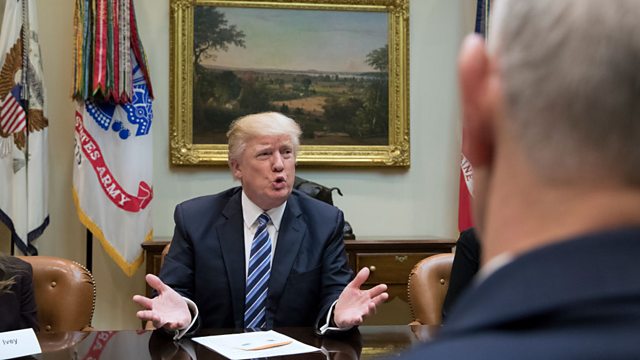 Trump Issues Healthcare Ultimatum
Trump has demanded a make-or-break vote in the House of Representatives on his troubled healthcare bill.
It is unclear if a make-or-break vote will take place in the House of Representatives on Donald Trump's healthcare plan. Republicans are divided and there is a possibility of the President being defeated if the vote takes place. Kate Andrews from the Institute for Economic Affairs tells us why conservative Republicans are not happy.
Former head of Friends of the Earth, Sir Jonathan Porritt, reacts to the recent go-ahead for the Keystone XL pipeline. The project was put on hold by Barack Obama, but has been approved by Donald Trump in a move which has angered environmentalists.
In the latest move to make the company profitable, Twitter is proposing to bring in a paid for subscription service. Twitter-user consultant Mark Shaw tells us what you might get for $4.99 a month and if it could turn the company's fortunes around.
Hong Kong elects a new Chief Executive this weekend. In a city with some of the most expensive real estate in the World, property prices are a key issue as Juliana Liu finds out.
Plus we review the big business news stories of the week with Matt Steinglass from The Economist in London and Anna Nicolaou of the Financial Times in New York.
(Photo: Trump attends a meeting on healthcare. Credit: Michael Reynolds-Pool/Getty Images)