Main content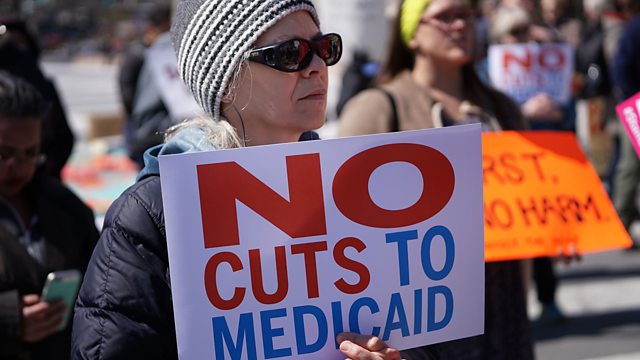 Hardline Conservatives Threaten to Sink 'Trumpcare'
Global business news, with live guests and contributions from Asia and the USA.
Trumpcare is in trouble. Congress is less than enthusiastic about the President's replacement for Obamacare, so will it get the House of Representatives' vote on Friday? We ask Daniel Lippmann of Politico Playbook.
The Escondida copper mine in Chile is the largest of its kind in the world, contributing 5% of global copper supply. Its miners had been on strike for the last 6 weeks, over a pay dispute with the owners, BHP Biliton. But they have now agreed to go back to work. Paula Molina, a journalist based in Santiago, explains what happened.
And whatever happened to the business lunch? Once upon a time, the world's biggest deals took place in alcohol and smoke-filled rooms . Not any more, here in London at least, where the BBC's Elizabeth Hotson has been charting the decline.
All this and more discussed with our two guests on opposite sides of the Pacific. Kara Alaimo, Assistant Professor at Hofstra University and Author of "Pitch, Tweet, or Engage on the Street", in New York. And John Wood, founder of Room To Read, in Hong Kong.
Photo: health care activists hold placards during a rally at Freedom Plaza on March 23, 2017 in Washington, DC. Credit: Getty Images.
Last on
BBC World Service
except News Internet
Broadcast
BBC World Service

except News Internet