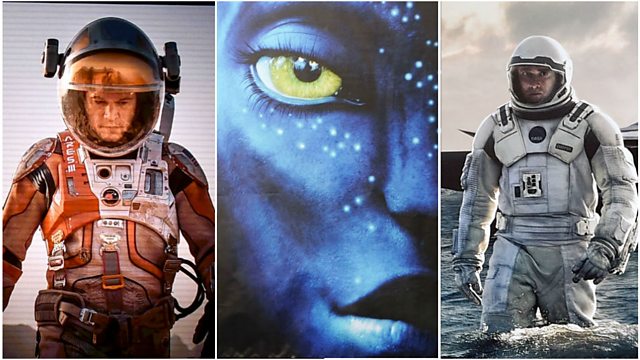 Science at the Movies
Can we really live on Mars? Or exist in a virtual world? And why does movie science sometimes have us shouting at the screen? Our panel of scientists and sci-fi experts reveal all in this special edition of CrowdScience recorded live at the South by Southwest Conference & Festivals in Austin, Texas, USA. To tackle all of our listeners' questions about science in film, presenter Marnie Chesterton is joined by a team of specialists.
Prof Polina Anikeeva is an MIT materials scientist and engineer whose research focuses on developing devices that work directly with the human nervous system. A sci-fi fan, Prof Anikeeva knows just how realistic brain-computer interface movies such as Avatar and The Matrix are.
Former NASA astronaut Dr Mae Jemison is a medical doctor, engineer, educator and entrepreneur, and the first African-American woman to go into space aboard the shuttle Endeavour in 1992. She is leading the 100 Year Starship Project, which aims to take humans beyond our solar system by 2112.
Prof Clifford Johnson is a theoretical physicist at USC whose work leads him to think about space-time, black holes, and extra dimensions, making him a regular contributor to documentaries about science and sci-fi films.
Rick Loverd is Program Director of The Science & Entertainment Exchange at the National Academy of Sciences, which inspires better science in Hollywood by introducing entertainment professionals to scientists and engineers. The Exchange has consulted on movies including Star Trek: Into Darkness, Iron Man 2 and Thor.
Do you have a question we can turn into a programme? Email us at crowdscience@bbc.co.uk
Presenter: Marnie Chesterton
Producer: Jen Whyntie
Audio clip from Gravity
Warner Bros. Pictures
Director: Alfonso Cuarón
Audio clip from Interstellar
Warner Bros. Pictures and Paramount Pictures
Director: Christopher Nolan
(Image: Matt Damon in The Martian. Credit: Getty Images)
(Image: Zoe Saldana in Avatar. Credit: Getty Images)
(Image: Matthew McConaughey in Gravity. Getty Images)
Last on
Sun 19 Mar 2017
01:32

GMT