Main content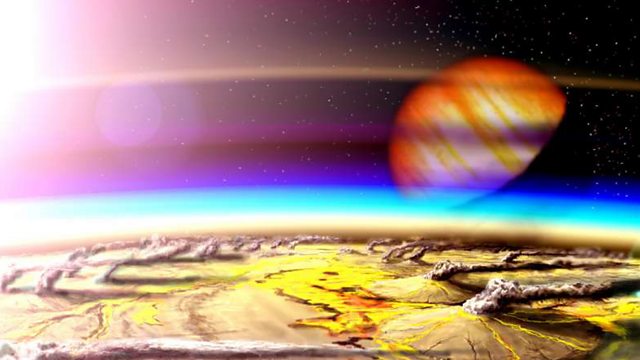 Volcanic Hydrogen Redefines the Habitable Zone
Hydrogen from volcanoes redefines the habitable zone, model improves offshore earthquake forecasting and biofuels reduce the damage caused by plane contrails
Hunting for habitable exoplanets has just got easier as many exoplanets which have previously been considered too icy may have been falsely dismissed. Exoplanets with volcanos which pump hydrogen into the atmosphere may be warmer than we previously thought. Hydrogen gas absorbs outgoing radiation which warms the atmosphere and melts inhospitable ice, providing an environment which may support life. This greenhouse warming effect could expand the habitable zone around distant stars by 30-60%.
Evidence of 4.3 billion year old Earth's crust found
We know very little about the primordial crust which first covered planet Earth billions of years ago. The oldest rocks are extremely hard to find and date - Analysis of rock samples from the Canadian Shield suggests that 2.7 billion year old daughter rocks contain components of 4.3 billion year parent rocks which made up the mysterious primordial crust.
New Model Improves Offshore Earthquake Forecasting
The 2011 Japanese earthquake and tsunami far exceeded experts' expectations, destroying defences and killing thousands of people. A new model called CRUST is the first to simulate all events caused by an offshore earthquake: tsunamis, landslides and aftershocks. It is hoped that it will improve hazard forecasting and strengthen emergency planning to help avoid huge fatalities from disasters like the 2011 Japanese tsunami.
Biofuels Reduce Damage Caused by Plane Contrails
With the aviation industry rapidly growing, a lot of research has been done to better understand the impact of carbon dioxide emissions. But until recently the impact of the soot found in plane contrails has been overlooked. Contrails may look beautiful and harmless but like carbon dioxide, they too contribute to global warming. By using a 50:50 biofuel conventional fuel hybrid, we may be able to reduce the impact of contrails by 50-70%. This provides a glimmer of hope for climate change as the effect of replacing conventional fuel with biofuel would be seen immediately.
Picture credit: Cornell University
Presenter: Adam Hart
Producer: Fiona Roberts
Last on
BBC World Service
East and Southern Africa & Europe and the Middle East only
Broadcasts
BBC World Service

East and Southern Africa & West and Central Africa only

BBC World Service

Online, Americas and the Caribbean, Australasia, Europe and the Middle East & UK DAB/Freeview only

BBC World Service

East Asia & South Asia only

BBC World Service

Americas and the Caribbean

BBC World Service

Online, Europe and the Middle East & UK DAB/Freeview only

BBC World Service

East Asia & South Asia only

BBC World Service

Australasia

BBC World Service

East and Southern Africa & Europe and the Middle East only