Main content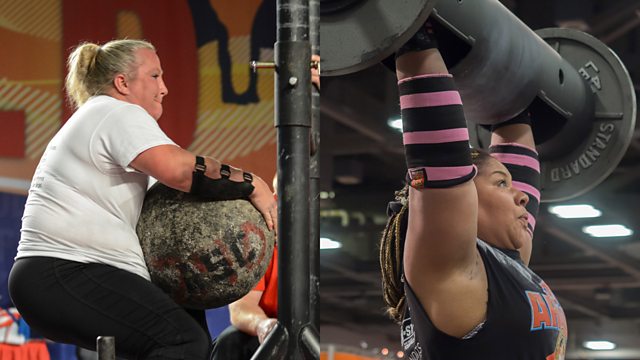 Strong Women
The current title-holders of Britain and America's Strongest Woman swap their highs and lows
Two of the strongest women in the world join Kim Chakanetsa to explain what it's like to be able to out-lift most men.
Kristin Rhodes has muscled her way to America's Strongest Woman status seven times. A mother and child-care provider from San Diego, for the last decade she has reigned supreme nationally, and has set three women's world records for strength. When she started out, she was competing in parking lots and winning just a handshake - now she performs in big venues to huge crowds. Kristin is proud to have been instrumental in getting the women's game the recognition she believes it deserves, and to have inspired other women to become stronger themselves.
Andrea Thompson is a relative newcomer to strength competitions, having only started weight-lifting two years ago when a coach spotted her in the gym in Suffolk. She's already been declared Britain's Strongest Woman and is hoping to add more medals this year. Andrea says she has always been big, and initially began exercising to lose weight after having her children, but now she has so much muscle she weighs more than she did before. However, finding out the feats her body is capable of has amazed her, and she now loves her larger build.
(L) Image: Kristin Rhodes. Credit: Strongman Corporation.
(R) Image: Andrea Thompson. Credit: Strongman Corporation.