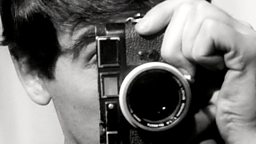 A revealing insight into several great modern photographers, drawn from the BBC's archive.
BBC Four
From iconic moments of World War One to the polarising work of Martin Parr...

Britain in Focus presenter Eamonn McCabe on the football match where everything changed.

Harry Cory Wright stages a camera experiment in Egypt with 1920s equipment.

Margaret Mountford discovers how Harry Burton's photographs made Howard Carter a star.

Super-rich and their cars inhabit Dougie Wallace's images of London's exclusive enclave.

Photographer Dennis Morris on capturing the punky reggae party in the late 1970s.