Main content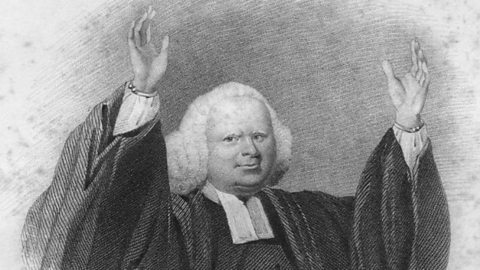 The life and legacy of George Whitefield
Exploring the life and legacy, in the UK and USA, of Gloucester born preacher George Whitefield.
Available now
There are currently no available episodes
Coming Up
No upcoming broadcasts
Supporting Content
In the footsteps of George Whitefield

Radio Gloucestershire presenter Richard Atkins travelled to the United States of America to discover the impact and lasting legacy of George Whitefield.

He visited Savannah (Georgia) where Whitefield first stepped ashore and spent his first months in America.  Richard visited the  Bethesda Academy which was founded as an orphanage by Whitefield and educates young people in need to this very day.

Richard travelled to Charleston in South Carolina where Whitefield preached and where his legacy lives on in many of the churches in the city.

In Philadelphia, Richard discovered the statue of George Whitefield and explored the evangelist's relationship with Benjamin Franklin.  

In Massachusetts Richard saw where Whitefield preached to over twenty thousand people on Boston Common.  He also visited Old South Church in Newburyport where George Whitefield is laid to rest.

Richard's documentary on George Whitefield's America is available to download worldwide via the links on this page.




Who was George Whitefield?

George Whitefield was "the most famous man in the world" in the 18th Century.  

He was born in Gloucester on 27 December 1714 at the Bell Inn on Southgate Street.  He was educated at the Crypt School in Gloucester and made his way to Pembroke College Oxford where he was given free tuition. 

He was ordained at Gloucester Cathedral and gave his first sermon at St Mary De Crypt church in the city.   He went on to preach in churches and open spaces across England and the American colonies.  In his lifetime he preached at least 18000 times and its estimated that millions of people heard his message.

He travelled from England to America seven times.  His final journey ended in Newburyport Massachusetts where, after preaching his final sermon in September 1770,  he passed away.    

George Whitefield is buried under the pulpit at Old South Church in Newburyport




Reverand Canon Richard Atkins

Richard Atkins presents the Sunday breakfast programme on BBC Radio Gloucestershire.  He is a Methodist Minister and is passionate about his ministry and broadcasting.

His interest in George Whitefield has grown over the years as he read more and more about the preacher that was born in Gloucester. 

In January 2017 he travelled across England tracing Whitefield's 18th century ministry.  In March he travelled to the eastern United States to explore George Whitefield's contribution to the faith of millions of Americans and his legacy on communities in the 21st century.

Richard presented two documentaries on George Whitefield on BBC Radio Gloucestershire in September 2017.  His presented a talk on "George Whitefield's America" during the Gloucester History Festival.