Main content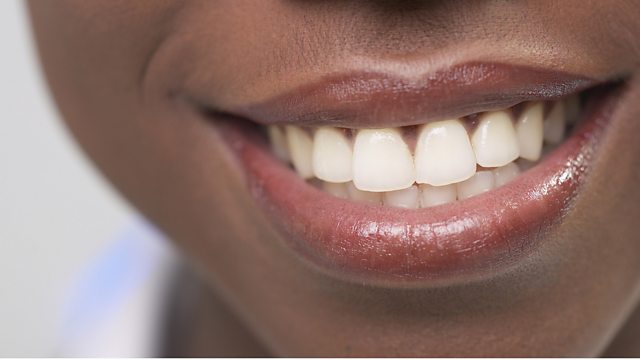 Smiling
We do it when we're happy, sometimes we fake it, often we do it when other people do it to us. And why does a smile make us feel better?
It's probably something we take for granted and do every day - whether a toothy grin, a megawatt beam or just a slight upturn of the corners of the mouth. But have you ever considered why we smile and what effect is has on other people? Scientists say it's one of our most basic human expressions and it's easier to smile than to frown. Aasmah Mir explores the power of the smile, how easy it is to fake and what happens when you lose the ability to smile.
Aasmah discusses the science behind a smile with Marianne LaFrance, professor of psychology at Yale university and with neuropsychologist, Dr Hamira Riaz.
She talks to Jonathan Kalb, professor of theatre at Hunter College, City University of New York, who lost his smile overnight, and speaks to 16-year-old Teegan O'Reilly from Dublin, Ireland, who was born with a rare neurological condition which means she can never smile.
Aasmah also hears from Dr Subodh Kumar Singh, director of GS Memorial Plastic Surgery Hospital in Varanasi, who has created thousands of smiles at his hospital in India. And meets photographer Rick Pushinsky, who reveals what happened when the wife of a former British prime minister smiled too much.
(Photo: Smiling mouth. Credit: Thinkstock)
Last on
BBC World Service
East and Southern Africa & Europe and the Middle East only
Broadcasts
BBC World Service

Online, Americas and the Caribbean, Australasia, Europe and the Middle East & UK DAB/Freeview only

BBC World Service

East Asia & South Asia only

BBC World Service

except News Internet

BBC World Service

Americas and the Caribbean

BBC World Service

Online, Europe and the Middle East & UK DAB/Freeview only

BBC World Service

East Asia & South Asia only

BBC World Service

Australasia

BBC World Service

East and Southern Africa & Europe and the Middle East only