Main content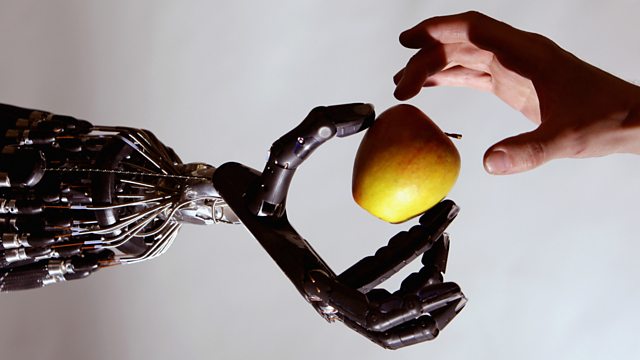 Will Your Children Have A Job?
Are we on the threshold of a world where robots do most of the work?
Robots, artificial intelligence and automation are spreading beyond the assembly line to compete for many of our jobs. Economists forecast that as many as half of current jobs in the developed world could be lost to computers in a generation, and as many as two-thirds in manufacturing-heavy China. But what about the new jobs that will emerge? And could we be at the threshold of a world in which robots do all the unpleasant work leaving us free finally, in the words of JM Keynes, to learn how to live 'wisely, agreeably and well'?
(Photo: Robot hand holding an apple. Credit: Getty Images)
Last on
BBC World Service
except Australasia & News Internet
Contributors
Ayorkor Korsah - Senior Lecturer in Computer Science, Ashesi University, Accra, Ghana
Peter Frase - Author of "Four Futures" and editor at Jacobin magazine
Daniel Susskind - Fellow in Economics at Balliol College, Oxford - and the co-author with his father of 'The Future of the Professions', a Financial Times book of the year.
Rory Cellan Jones - BBC Technology Correspondent
Also taking part:
Angus Knowles-Cutler - London Senior Partner at the accountancy firm Deloitte - has done research on how automation might impact its clients.
Paul Josephson - Professor of History at Colby College, in Maine - speaking about the origins of the 18th Century Luddite movement against new technology.
Broadcasts
BBC World Service

except Americas and the Caribbean & News Internet

BBC World Service

Americas and the Caribbean

BBC World Service

except News Internet

BBC World Service

except Australasia & News Internet