Main content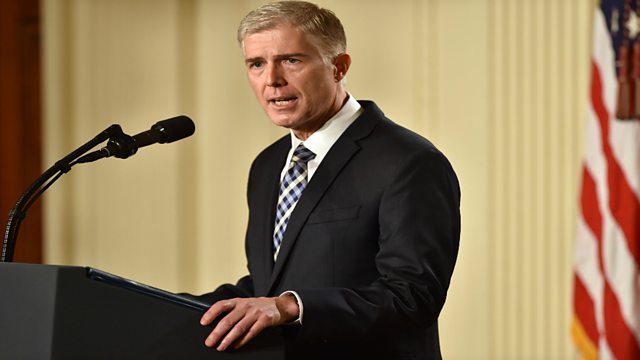 Neil Gorsuch Nominated As Supreme Court Judge
President Trump announces Neil Gorsuch as his nomination for the Supreme Court. The ninth place on the Supreme Court has been vacant since the death of Justice Antonin Scalia
Being one of America's nine Supreme Court Judges is the chance to shape the direction of the world's most powerful country and it's a job for life. Once appointed, Supreme Court judges are answerable to no-one. The person Donald Trump nominates will potentially be making decisions on everything from abortion to gun control for decades. And that person is Neil Gorsuch. We hear from Rajini Vaidyanathan outside the Supreme Court in Washington DC.
It's budget day in India. Finance minister Arun Jaitley has one big issue hanging over his tax-and-spend decisions; the economic fall out of Prime Minister Narendra Modi's surprise decision late last year to withdraw two of the most common bank notes which made up eighty-six percent of the cash in circulation.
Hackers have been holding some establishments to ransom by getting into their networks, shutting down systems and refusing to leave unless money is transferred to a bitcoin account. It happened at one hotel in southern Austria last week. Staff became suspicious when they were unable to issue room keys to guests. We hear from the manager of Seehotel Jaegerwirt Hotel, Christoph Brandstaetter.
When it comes to getting around Kenya's capital Nairobi, most people rely on privately-owned minibuses that ferry commuters around the city. The system is an informal one, which means there are no fixed schedules and wait times can be long. Now a group of university students have come up with a way to improve the system using mobile phone technology. And they've won the backing of former US President Bill Clinton. The BBC's Vivienne Nunis reports from Nairobi.
We cross over to the BBC's Phil Mercer in Sydney to hear how Australia is planning to spend millions of dollars to help its nearest neighbour, Papua New Guinea, host next year's APEC summit. We also hear that welfare campaigners say there needs to be greater protection against pay day lenders.
Do office jokes like putting your colleague's stapler in a jelly make you look clever - or a bit silly? Are jokes at work good or bad for your career? We talk to Professor Brad Bitterly who's been studying the question for the Wharton Business School.
And joining us throughout the programme are Mitchell Hartman of our sister programme Marketplace, who's in Portland Oregan and Paranjoy Guha Thakurta in New Delihi, journalist with India's Economic and Political weekly.
Photo description: Judge Neil Gorsuch speaks, after US President Donald Trump nominated him for the Supreme Court, at the White House in Washington, DC, on January 31, 2017.
Photo credit: NICHOLAS KAMM/AFP/Getty Images
Last on

BBC World Service
except News Internet
Broadcast
BBC World Service

except News Internet