Main content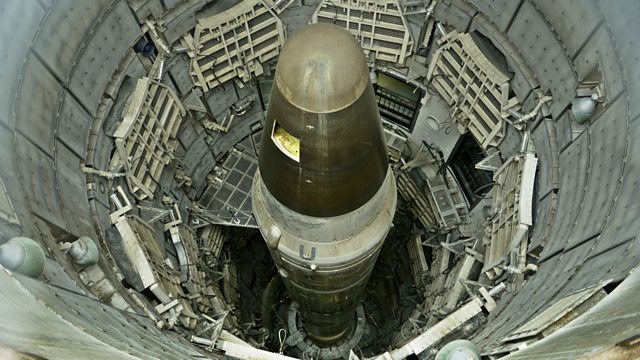 Nuclear Weapons: How Safe are We?
How secure are global stockpiles, and could nuclear weapons be launched by accident?
Nuclear weapons and mutually assured destruction are associated with the Cold War but today more countries have the bomb than ever. An American president has the power to unilaterally start a nuclear war. In South Asia, India and Pakistan face off across a volatile border, both countries hold nuclear arsenals primed and ready to fire. Elsewhere, rogue-nation North Korea edges closer to nuclear capability, and a nuclear armed Israel sees its very existence threatened by Iran. So how safe are we from nuclear destruction? Join Owen Bennett Jones and his guests on Newshour Extra as this week they discuss the nature of the threats we face from nuclear weapons: how secure are global stockpiles, and what is the likelihood that any one of the many thousands of nuclear warheads across the globe could be launched intentionally or by accident?
(Photo: Titan II nuclear capable missile Credit: Getty Images)
Last on
BBC World Service
except Australasia & News Internet
Contributors
Rudolf Herzog - author of 'A Short History of Nuclear Folly'
Robert Downes - is a nuclear expert at King's College London
Joseph Cirincione - President of the Ploughshares Fund which gives grants for work on nuclear weapons policy and conflict resolution
Catherine Dill - Research Associate, expert on China and East Asia nuclear policy, Middlebury Institute of International Studies at Monterey
Pervez Hoodbhoy - Pakistani commentator and former nuclear scientist
Broadcasts
BBC World Service

except Americas and the Caribbean & News Internet

BBC World Service

Americas and the Caribbean

BBC World Service

except News Internet

BBC World Service

except Australasia & News Internet