Main content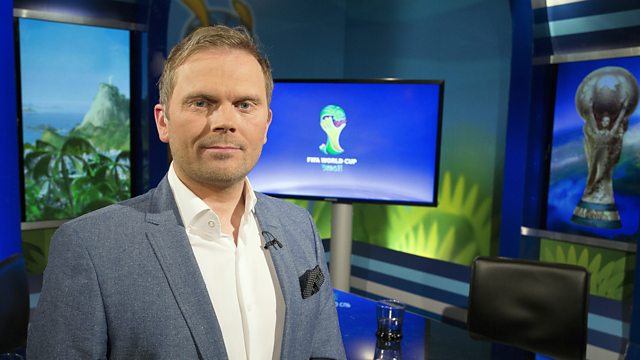 Talking Sport - 90 Years of Commentary
Icelandic commentator Gudmundur Benediktsson marks the 90th anniversary of the BBC's first radio football commentary in 1927.
It is 90 years since the first BBC football commentary on radio from a wooden hut in Highbury, England. It brought sports to a much bigger audience and revolutionised overnight our relationship with our favourite games. Nine decades on and sports commentary is a multi-billion dollar business.
Icelandic commentator Gudmundur Benediktsson tells the story of how sports commentary developed in different parts of the world. Gudmundur, whose excitement over a late goal by Iceland against Austria at Euro 2016 sent his own commentary viral, hears from a variety of commentators and experts as he charts the history of commentating.
The first football commentary of the match between Arsenal and Sheffield United at Highbury in January 1927 pioneered the use of two commentators, one providing a running commentary of the action, the other calling out grid references. It was a huge innovation.
Gudmundur will look at how sports commentary developed in different parts of the world and how commentators went on to become part of the sporting experience themselves, often loved and loathed in equal measure - their personalities bringing a new identity to some sports.
With the help of fellow commentators, Gudmundur will also examine the skill involved in taking to the commentary box for different sports. How does football commentating differ from horse racing commentary for example? Of course commentators are only human - and Gudmundur hears about some of those embarrassing moments too, when the gaffes and hysterics became almost as memorable as the games themselves.
(Photo: Gudmundur Benediktsson. Credit: Daniel Runarsson)
Last on
BBC World Service
Australasia
Broadcasts
BBC World Service

except News Internet

BBC World Service

except East and Southern Africa, News Internet & West and Central Africa

BBC World Service

except Americas and the Caribbean & News Internet

BBC World Service

Americas and the Caribbean

BBC World Service

except News Internet

BBC World Service

Australasia