Main content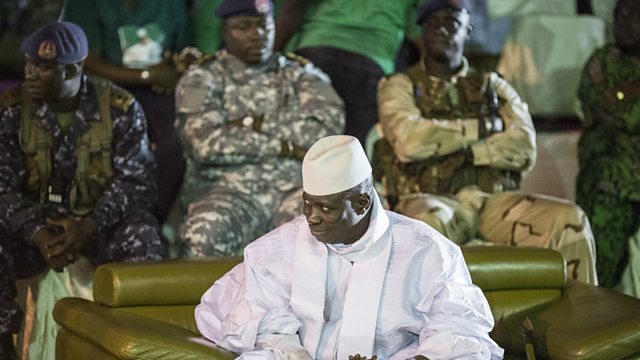 The Gambia President Defies Military Deadline
The deadline passes for The Gambia's President Yahya Jammeh to step down, with West African military forces poised to move in and install Adama Barrow as the country's new leader.
The Gambian President Yahya Jammeh who refuses to step down now faces the prospect of a military intervention by West African forces. The midnight deadline for him to leave office has passed with no word from Jammeh, who is disputing last month's election victory for Adama Barrow. Earlier on Wednesday a military commander with the regional bloc known as ECOWAS (Economic Community of West African States) confirmed that troops were positioning along the Gambia's borders with Senegal. We ask Richard Dowden of the Royal African Society why the Gambia's neighbours are resolved to intervene in this dispute.
Today's economic superpowers appear to be squaring up to each other across the great divide of free-trade versus protectionism, with China on the unlikely side of free trade. The British economist Roger Bootle assesses how realistic a role this is for them.
Phil Mercer brings us the latest business stories from Australia, including the surprise resignation of the New South Wales Premier Mike Baird, as well as how nostalgic music festivals are reviving the fortunes of small towns in the outback.
Plus, how the manufacturers of a smart toilet in Japan have found it necessary to standardise the confusing array of symbols on their top product.
Presenter Roger Hearing is joined throughout the programme by Peter Morici, professor of International Economics at the University of Maryland, and Shalini Mahtani, co-founder of the Zubin foundation.
(Photo: Gambian President Yahya Jammeh. Credit: Marco Longari/Getty Images)