Main content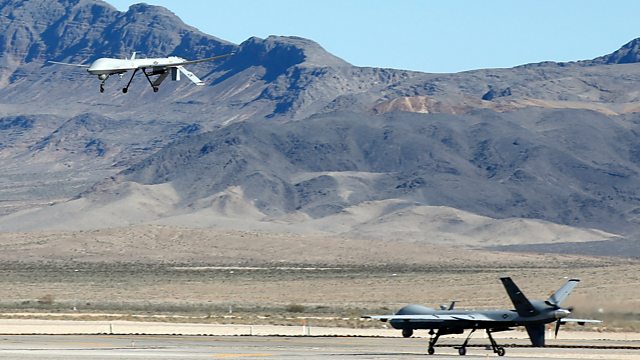 Remote Control War
How drones are fundamentally changing the face of warfare and the challenges of drone programmes.
When Donald Trump takes office, he will inherit sweeping powers to kill terrorists and militants. And he is likely to do it by deploying what the US Air Force call Remotely Piloted Aircraft, but which go by a more common name - drones.
Drones are a powerful weapon in the fight against terror. American drones have killed terrorist leaders and devastated al-Qaeda. The US government says their lethal precision keeps civilian casualties to a minimum, that they are cheaper than fighter jets and, crucially, they minimise the risk to US troops.
That is why the US public supports their use. It is also why President Obama oversaw a dramatic expansion in drone strikes. The US Air Force has ordered a doubling of the number of drone pilots being trained.
But a growing number of critics fear we are entering an ever-growing spiral of drone warfare. They say the strikes are radicalising more people than they are killing and point to the proliferation of drones, with some 89 countries now possessing them and terror groups like ISIS experimenting with their use. So what happens when everyone has drones?
It is also argued that these strikes have been carried out with minimal oversight, guided by a policy that is largely secret and killing more civilians than acknowledged - that the strikes are illegal and unethical.
And then there is the effect on the pilots sitting in their trailers thousands of miles away; PTSD and exhaustion are being blamed for a recruitment crisis, while many former pilots complain that this is a cowardly war.
So as Donald Trump prepares to take office, Vin Ray looks at the challenges facing the drone programme and how drones are fundamentally changing the face of warfare.
(Photo: An MQ-1B Predator remotely piloted aircraft (RPA) flies past a MQ-9 Reaper RPA during a training mission, 2015. Credit: Isaac Brekken/Getty Images)