Main content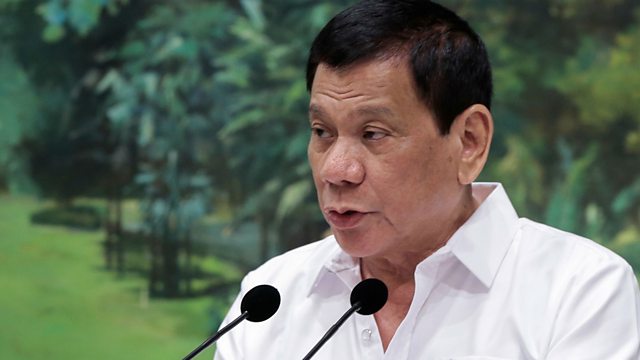 Phillipine President Continues Anti-American Rhetoric
Global business news, with live guests and contributions from Asia and the USA.
Philippine President Rodrigo Duterte has continued his anti - American rhetoric by telling the US to prepare for the repeal of a military deal. The Visiting Forces Agreement accords legal status to thousands of U.S. troops rotated through the country for military exercises and humanitarian operations. But at a news conference soon after he returned from Cambodia and Singapore, Duterte said the United States should prepare for its troops to leave. The President appeared to vent his anger on Washington after a US aid agency put on hold a decision to fund another anti poverty programme in Manila.
The delay has been put down to concerns about the abuse of human rights in the Philippines following the killing of thousands of people in the war against drugs. The Philippine President indicated that China instead would provide money...saying that the politics in South East Asia was changing. Dr Lynn Kuok, non-resident fellow at the Brookings Institution and visiting scholar at Harvard Law School, told Susannah Streeter more about the relationship between the Philippines and the USA.
Switzerland has watered down immigration proposals approved in a referendum to try and protect its relationship with the European Union. The new law will though give jobseekers already in the Switzerland priority over European Union applicants, in times of high unemployment. But the dilution of the referendum result has led the right-wing Swiss People's Party to say politicians have defied the people's will. Is this legislation what people voted for in the referendum? Imogen Foulkes discusses.
Susannah Streeter looks back at the week of business with Mark Gilbert from Bloomberg in London and Mamta Badkar, a correspondent in New York.
Many Indian and Pakistani immigrants to the UK in the 1960s and 70s realised the economic potential of the grocery store . Among them was the family of the BBC World TV presenter Babita Sharma who has made a documentary Booze beans and bhajis which looks at how immigration has had an impact on the sector.
Susannah Streeter is joined by Clive Hunton, ABC Journalist in Canberra for comment throughout the programme.
Last on
BBC World Service
except News Internet
Broadcast
BBC World Service

except News Internet