Main content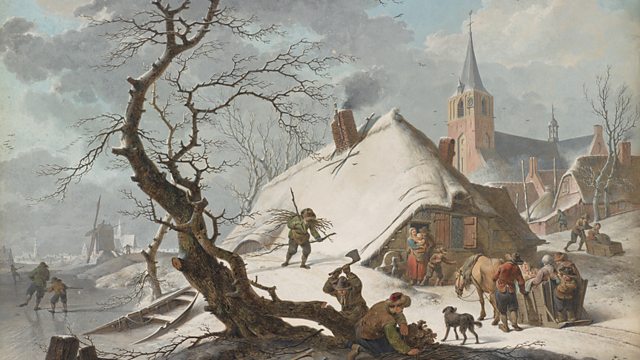 Europe's Coldest Decade
Europe's coldest decade 1430-1440, caused famine and hardship across the continent. But what caused the cold? Also the cold war nuclear meltdown nearly started by a solar storm.
In the midst of the Little Ice Age, winter temperatures plummeted even lower in the extraordinary decade of 1430-1440. Rivers, lakes and coastlines froze over year after year. Seeds perished, flocks dwindled, famine ensued, and soon minorities and witches were being blamed for the miserable conditions. Historian Chantal Camenisch and Kathrin Keller of Bern University look into what may have been the worst decade in European weather in almost a millennium.
Solar Armageddon
In the depths of the cold war, a solar storm nearly triggered a nuclear holocaust, by jamming the radar systems the superpowers used to monitor their enemies' manoeuvres. Solar physicist Dolores Knipp has been unravelling the story of the space-weather experts who halted the nuclear escalation.
Chicxulub, the end of the dinosaurs
New evidence was presented this week at the American Geophysical Union Fall meeting in San Francisco, from the drilling project that tapped into ground zero of the impact that wiped out the dinosaurs 66 million years ago. BBC's Jonathan Amos reports on the first hints of the asteroid that did the killing, and on the first signs of life that occupied the new crater in its immediate aftermath.
Tiddlers on the Roof
Imperial College planetary geologist Matt Genge shows Roland Pease the tiny micrometeorites Norwegian space enthusiast collected from the rooves of his home country. 500 specks of cosmic dust recovered from 300 kilogrammes of muck.
Presenter: Roland Pease
Producer: Geraldine Fitzgerald
Image: A Winter Scene @ J. Paul Getty Museum
Last on
BBC World Service
East and Southern Africa & Europe and the Middle East only
Broadcasts
BBC World Service

East and Southern Africa & West and Central Africa only

BBC World Service

Australasia, Americas and the Caribbean, Online, Europe and the Middle East & UK DAB/Freeview only

BBC World Service

East Asia & South Asia only

BBC World Service

Americas and the Caribbean

BBC World Service

Online, UK DAB/Freeview & Europe and the Middle East only

BBC World Service

East Asia & South Asia only

BBC World Service

Australasia

BBC World Service

East and Southern Africa & Europe and the Middle East only