Main content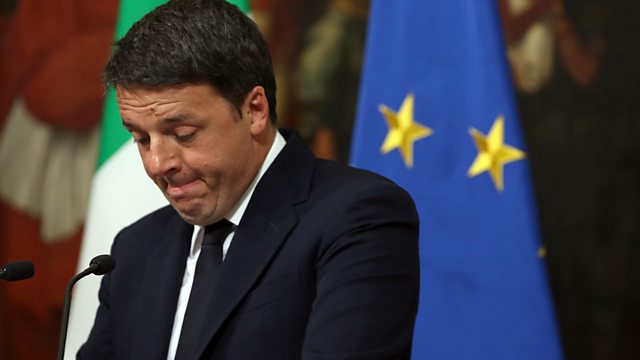 Italy Faces Political Upheaval Following Referendum
Matteo Renzi asked Italians to vote in favour of changes to the constitution, but his plans were defeated by a 60 to 40 margin.
Italy is facing political upheaval after a heavy defeat in a referendum forced the Prime Minister to quit. Matteo Renzi asked Italians to vote in favour of changes to the constitution - strengthening the role of central government over the regions and weakening the power of the Senate, the upper house of the Italian parliament. But his plans were defeated by a whopping 60 to 40 margin. So what now for Italy and its partners in the European Union? James Politi, Rome bureau chief for the Financial Times, gives us his view.
China appears to be playing down an attack on some of its policies by the US President-elect, Donald Trump. In a series of strongly-worded tweets, Mr Trump accused China of currency manipulation and a military build-up in the South China Sea. It is though the second time in a week that Mr Trump has appeared to irk Beijing. On Friday the President elect had a phone conversation with the Taiwanese President, which led China, to lodge a formal complaint. We hear the thoughts of our our two guest who join us throughtout the show: Kara Alaimo, Assistant Professor at Hofstra University and author of 'Pitch, Tweet, or Engage on the Street'. And David Moser, Academic Director, CET Chinese Studies programme at Beijing Capital Normal University.
Ride-sharing service Uber is considered the ultimate Silicon Valley disrupter - it operates in more than 500 cities around the world, much to the anger of the taxi trade. But its real goal is to replace the car in your garage, and today it has announced a deal it hopes will help with that aim. But at what cost to jobs? The BBC's Dave Lee reports from San Francisco.
And can the chief executive of one of the biggest global consumer brands really mean it when he sends all of his employees his love? We find out what Lucy Kellaway thinks.
Photo: Italian Prime Minister Matteo Renzi give a speech after the results of the referendum on constitutional reforms at Palazzo Chigi on December 5, 2016 in Rome, Italy. Credit: Getty Images.
Last on
BBC World Service
except News Internet
Broadcast
BBC World Service

except News Internet