Main content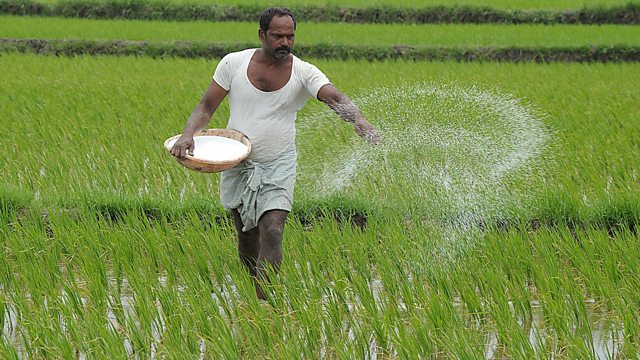 India's Green Revolution
It's 50 years since India revolutionised its farm production. We hear how it did this, and ask why the same transformation hasn't happened in Africa.
Today we are talking revolutions - not those fought on the battlefield or city streets - but those waged in agriculture. It's 50 years since a Green Revolution began transforming India's rice production, and soon afterwards Asia's ability to feed itself more generally. A similar transformation also happened in Latin America. We remember how the changes came about in India, and ask, why hasn't the same thing happened in Africa?
Presenter Ed Butler speaks to Lydia Gathenya, interim programme manager at Farm Africa, a non-governmental organisation based in Nairobi, and to Dr Fraser Thompson, a development economist now based with the strategy advisory business, Alphabeta in Singapore, which is looking to use investment to help transform African production.
(Picture: A farmer sprays fertilizer in the paddy fields near Hyderabad in India; Credit: Noah Seelam/AFP/Getty Images)
Last on
BBC World Service
Americas and the Caribbean
Broadcasts
BBC World Service

except News Internet

BBC World Service

Americas and the Caribbean
A year of Covid in Nairobi: Josephine's story