Main content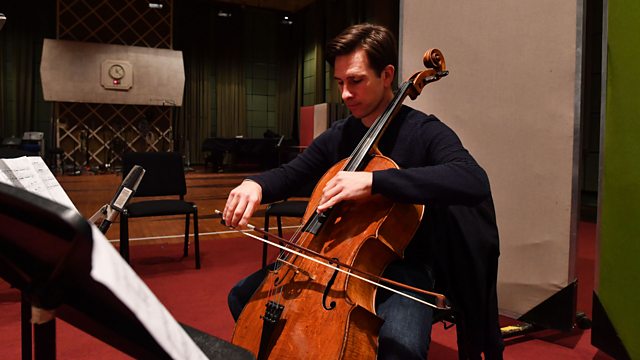 Composer in 3: Sicilienne
Matthew Kaner is Radio 3's Embedded Composer in 3, in partnership with Sound and Music
Matthew Kaner is Radio 3's Embedded Composer in 3, in partnership with Sound and Music. Listen to the ninth of Matthew's weekly commissions for 70 at 70, a series of musical and cultural commissions to mark 70 years of BBC Radio 3.
Matthew writes:
"Sicilienne for solo cello was inspired by the beautiful work Papillons by the Finnish composer Kaija Saariaho, written for the same instrument. Saariaho's approach to solo string writing is to explore the natural resonances of the instrument in incredible detail, making full use of natural harmonics and effects such as playing close to the bridge, resulting in rich atmospheric textures and a huge range of colours. (Her interest in the work of the French 'spectralist' composers, and particularly their computer analysis of natural sound-spectra was very important to the development of her style.)
Her use of certain string crossing techniques and a regular energetic pulse in some movements also perhaps harks back to Bach's Cello Suites, which of course also make great use of the instrument's natural resonance.
For my new piece I wanted to explore similarly resonant effects, but within a more personalised sound-world, so I took the rather unusual step of retuning the strings of the instrument. Instead of its standard configuration with the strings in perfect fifths (on C,G, D and A), I've used a scordatura tuning of B, G-sharp, C-sharp and A, thereby effectively retuning the cello to one of my favourite chords. Though a little disorienting for the player at first, this opens a range of new colours on the instrument, and I was blessed to have the opportunity to write for the wonderful cellist Guy Johnston, who immediately took to the piece and its sound world. Having created my own 'customised' resonance I then use the resulting harmonies to provide a backdrop for a series of long melodic lines, which draw on the characteristic melancholic rhythms of the Sicilienne."
Duration:
Featured in...
Radio 3 challenged him to write a new piece every week for 70 days. Here's what happened.
More clips from Breakfast