Main content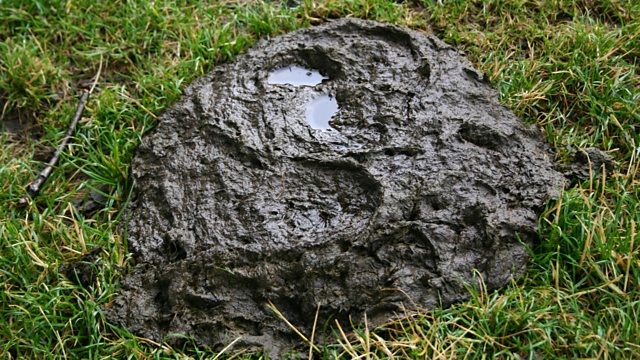 How Dung Beetles are a Cattle Farmers Best Friend
Developing a sticking plaster that can record, analyse and monitor dysfunctional heartbeats.
Heart Patch
A soft electronic skin plaster has been developed that can capture the detailed sound of valves opening and closing in the heart. It could help monitor heart murmurs in people with defective hearts. When the patch is placed on the throat however, it can help gamers give clear voice commands in a noisy room.
When the PIG Lifted Off
The Pine Island Glacier, or PIG, flows into the Amundsen Sea in West Antarctica. It a huge mass of ice pushing into the sea, that has been melting at an alarming rate. The PIG was once pinned to the seafloor by an underwater ridge. When it melted off this 'anchor', the warmer water was able to get under the ice and increase the melt rate. New work by the British Antarctic Survey has been looking at when this accelerated melting started. Turns out it was as recently as the mid 1940's.
Silicon-Carbon Life
Life on Earth is carbon-based, that means the major chemical building block is carbon. Why isn't it silicon? They are very similar and sit together on the periodic table. Yet silicon-based molecules in nature are unheard of. Now researchers at Caltech, in the US, have directed the evolution of proteins that can now act as enzymes or catalysts to make compounds of carbon and silicon bond together in nature. It could spell a whole new field of synthetic biology with a different kind of chemistry.
It's All in the Poop
Dung beetles that live on cow pats have been shown to help stop the lifecycle of parasitic worms that infects cows. Experiments using artificially-made cow pats, some with and some without dung beetles has shown that the industrious insects clear up 30% of parasite infections.
(Image: A cow-pat)
Last on
BBC World Service
East and Southern Africa & Europe and the Middle East only
Broadcasts
BBC World Service

East and Southern Africa & West and Central Africa only

BBC World Service

Online, Australasia, Europe and the Middle East, UK DAB/Freeview & Americas and the Caribbean only

BBC World Service

East Asia & South Asia only

BBC World Service

Americas and the Caribbean

BBC World Service

Online, Europe and the Middle East & UK DAB/Freeview only

BBC World Service

South Asia & East Asia only

BBC World Service

Australasia

BBC World Service

East and Southern Africa & Europe and the Middle East only