Main content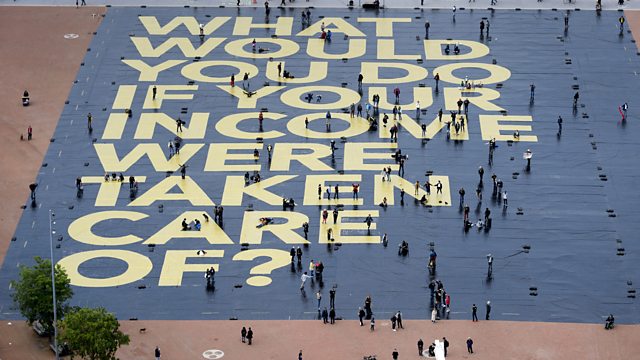 Universal Basic Income: Has its Time Come?
Should everyone in society be given a basic wage just for getting up in the morning?
It is an idea that has been around for hundreds of years - to give everyone in society a regular chunk of money that is enough to guarantee them a minimum survivable standard of living. Often called Universal or Unconditional Basic Income, the idea has supporters on both right and left. It was cast back into the spotlight this year when the Swiss held a referendum on whether to introduce it. Pilot schemes to test the idea are cropping up everywhere from Finland to the Netherlands to the US and Kenya. One reason it is gathering such momentum is concern over new technologies eliminating many low-end jobs. Last week the founder of Tesla Motors, Elon Musk said the impact of automation on the job market meant that some form of Universal Basic Income would become inevitable.
But not everyone agrees a Basic Income is inevitable, or even desirable, and for those who do support the idea, there is disagreement over almost every aspect of how it should be implemented. To what extent could it replace the Welfare State? Would it incentivise people to work? Can people be trusted to spend the money wisely? And how could it be funded?
The BBC's Ed Butler is joined by a panel of four - professor Louise Haagh, reader of Politics at the University of York and the co-chair of the Basic Income Earth Network; Michael Tanner, senior fellow of the CATO Institute in Washington DC; Michael Faye, co-founder of Give Directly, which is piloting its own Universal Income project in Kenya; and professor Ian Gough of the Centre for the Analysis of Social Exclusion at the London School of Economics.
(Photo: Giant campaign poster in Plainpalais Place, Geneva, 2016 saying: What would you do if your income was taken care of? Credit: AFP/ Fabrice Coffrini/Getty Images)
Broadcasts
BBC World Service

Americas and the Caribbean, Online, East and Southern Africa, Australasia & UK DAB/Freeview only